The iPhone's built-in Notes application works well, but sometimes a little more power would be nice. Brid looks to fill that need with its $4 Awesome Note. It delivers the additional power, but, unfortunately, overdoes things a bit.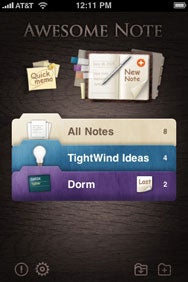 Awesome Note can organize notes by folders, export and import from Google Docs, and search notes. The app also offers a quick memo option—separate from regular notes—and gives you the option to password-protect your notes. What's more, you have a number of note themes to choose from, to give your notes a distinct look.
The application looks great, and it functions well, but the feature-set is too large. It takes too long to figure out how to work the application, because there is too much going on and its icons are unclear. For example, it isn't immediately obvious how to edit the folders—the icon which brings you to the edit page is just a folder with a down arrow on top of it.
More damaging is that while Awesome Note brims with features, I found that it didn't bolster my productivity. Since there is so much on the screen at one time, there's a lot of distractions. What folder should this go in? What theme should I use? What font? Is the size right?
Awesome Note's best feature—the ability to import and export to Google Docs—doesn't work like it should. It requires the user to go into the settings and export notes every time they make a change on their iPhone, or import them whenever they make a change on their computer. What should be a time-saving feature turned into an annoyance for me. It should just sync automatically.
A notes application which takes what the built-in Notes application has right—simplicity—and makes it a little more powerful is ideal. More features doesn't mean a better application. As NetNewsWire developer Brent Simmons told me once, clarity is more valuable than density. Awesome Note would be a little bit more awesome with a little more clarity.
Awesome Note is compatible with any iPhone or iPod touch running the iPhone 3.0 software update.
[Kyle Baxter writes and publishes the Mac weblog TightWind.]