Nemetschek North America released the 2010 versions of its Vectorworks line of design software. Tuesday's announcement includes new versions of Designer, Architect, Landmark, Spotlight, Machine Design, Fundamentals, and Renderworks.
Building on the integration of the Parasolid 3D modeling core in version 2009, the 2010 edition adds bi-directional associativity features and an intuitive, 3-D modeling environment that features unified views and easy-to-use 3-D snapping for accurate modeling. Vectorworks 2010 also extends Nemetschek's relationship with Siemens PLM Software by integrating the D-Cubed 2D Dimensional Constraint Manager (2D DCM) into the software.
The VectorWorks Web site lists all of the more than 80 new features in the new 2010 version as well pricing information.—Jackie Dove
OCR technology added in Prizmo update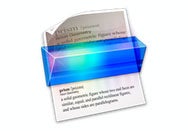 Creaceed on Tuesday announced Prizmo 1.1, an update to its image-processing application that allows people to scan documents using a digital camera. The major improvement in version 1.1 is the addition of Optical Character Recognition (OCR) technology, including support for ten different languages.
Users can save the resulting file in a number of formats, including PDF, RTF, and text, and the contents are indexable by Spotlight.
Prizmo 1.1 requires Mac OS X 10.5.8 or later, and is compatible with Mac OS X Snow Leopard. An Intel Mac or PowerMac G5 with at least 64MB of VRAM is required, with 128MB of VRAM recommended. A license for Prizmo costs $40.—Dan Moren
Wolfram announces webMathematica 3
Wolfram Research updated webMathematica, adding new performance and development capabilities for its technology for adding dynamic content to the Web.
webMathematica 3 integrates both Mathematica 6 and 7 with the latest Web server technology, making the tool ideal for creating Web sites where users compute and visualize the results directly in their browsers.
Other changes in webMathematica 3 include expression language and custom tags that provide a more concise way to call to Mathematica from Web pages; a queuing system that executes long-running or asynchronous computation jobs; support for Wolfram Workbench; a new configurable logging system for tracking different types of errors; the ability for users to write REST and SOAP Web services; and improvements to the kernel monitor and kernel interaction.
Pricing information for webMathematica 3 is available by contacting Wolfram.—Philip Michaels
Black Ink update offers bug fixes
Black Ink 1.1.7, the latest version of Red Sweater Software's crossword puzzle-solving application, was released on Thursday. The update fixes problems with getting puzzles from the Chronicle of Higher Education, removes the now defunct Sydney Morning Herald source, and fixes a number of bugs, including one that could cause downloads to stop working until the app was relaunched. There are also a number of improvements to multi-character answer support.
Black Ink requires Mac OS X 10.4 or later and costs $25 for a license.—DM