At a Glance
Expert's Rating
Pros
Impressive built-in email client
Superb standards compliance
Useful Speed Dial feature
Novel design elements
Cons
Limited HTML5 support
Some popular Web features don't work
Relatively slow JavaScript performance
Our Verdict
In the Web browser wars, Opera is Switzerland: dependably neutral and obsessed with design. The venerable browser's latest version introduces several innovative interface ideas, some more useful than others.
Knowing the score
In benchmark tests, Opera 10 performs respectably in the middle of the pack when compared to other browsers. On a 2GHz Core 2 Duo MacBook, Opera rendered an XHTML test page in 1.83 seconds, slower than the .49 seconds posted by Safari 4 ( ) but faster than the 2.66 seconds by Firefox 3.5 ( ). In a CSS test, Opera scored 152 miliseconds to Safari's 35 ms and Firefox's 361 ms. And in Web standards, Opera 10 earned a perfect score of 100 on the Acid3 rendering test, and rendered all 578 selectors in a CSS3 compliance check.
The only real disappointment under Opera's hood was its JavaScript performance. Opera 10 wheezed through the SunSpider JavaScript benchmark in 6144.6 ms, compared to Firefox's 1464.4 ms and Safari's 756.4 ms. In regular use, the browser felt no less responsive than Firefox or Safari. Aside from a couple of non-reproducible rendering glitches, Opera 10 gave me no troubles.
The program comes helpfully preloaded with all the Web's most popular plugins. However, since it's not as widely used as some rival browsers, certain Web apps, like Netflix streaming movies, simply don't support it. That's not Opera's fault, but it's still a drawback.
A true original
Opera 10 unveils an impressive number of new design elements, although some are more pretty than practical. Visual tabs, for example—drag down the tab bar to reveal thumbnail images of each open page—look nice, but seem to add little usefulness. And while I was amazed by the capabilities and easy installation of Opera's built-in Widgets, I'm still not sure why a Web browser needs a full-featured drawing program or a solar-system simulator. (I had no such complaints about the browser's built-in debugging tools for Web designers.)
Opera Turbo was another well-intentioned miss for me. It compresses pages for speedier downloads over slow networks. In my tests, pages did seem to load more quickly with Opera Turbo on, but the images on them were blocky and heavily artifacted. Turbo is a thoughtful idea, but in this age of ubiquitous broadband, I'm not sure it's necessary.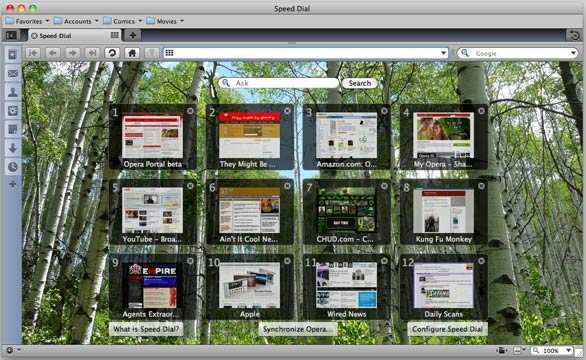 I found Speed Dial much more useful. A friendlier, more customizable version of Safari's glossy Top Sites view, Speed Dial lets you easily set up a palate of your favorite Web sites, which appear automatically whenever you open a new tab. I also liked Opera 10's button to reveal recently closed tabs, and its Panels feature, which presents bookmarks, widgets, contacts, downloads, and other useful information in a window that pops out from the left side of the browser.
The Panels also contain Opera's handsome built-in email client, which is favorably reminiscent of Apple Mail. I especially liked how the Contacts panel in Opera Mail lets you display every message from a given individual. If you want all your online functions in one program, Opera Mail should do the job nicely.
On the negative side, the bookmarks bar is confusingly hidden when the program first launches, and must be manually enabled. There's no support for multitouch gestures on Apple's newer laptops, although Opera offers its own, less elegant set of gestural controls. And while it handles basic markup just fine, Opera doesn't seem to support some of the more advanced features of the emerging HTML5 standard, including the tag.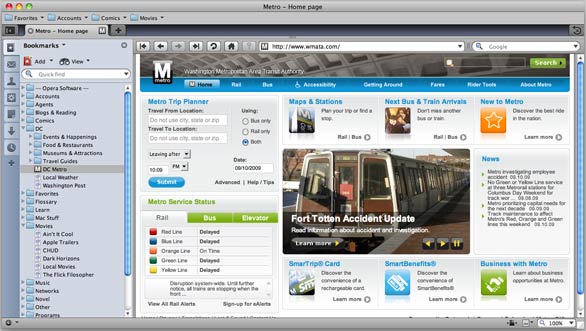 Macworld's buying advice
Thoughtfully designed and superbly engineered, Opera 10 is an excellent choice for anyone wanting more speed than Firefox, but more flexibility than Safari. Aside from its second-class-citizen status with Netflix and other cutting-edge Web tech, Opera 10 hits all the right notes.
[Nathan Alderman is a writer, copy editor, and probably somewhere between a bass and a baritone in Alexandria, Va.]