At a Glance
Expert's Rating
Our Verdict
Able Planet's claim to fame is the development of headphones designed for people with hearing disabilities, but the company's Linx Audio technology has enabled it to expand into the mainstream headphone market. The PS500MM True Fidelity Multimedia Stereo Headphones is a recent model designed for users looking for a stereo headset with a microphone for gaming and Voice over IP (VoIP) services such Skype. I've found the PS500MM to be adequate, if pricey, for those purposes.
The Linx Audio technology, according to Able Planet, was originally designed to help compensate for hearing loss. It creates high-frequency harmonics to enhance sound quality and speech clarity, especially for people who have trouble hearing higher frequencies—a common effect of aging.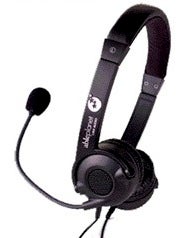 For listeners without such hearing loss, Able Planet claims the net result is a perception of loudness at lower volumes. In other words, regular listeners can turn down the volume without reducing clarity. Other benefit claims include reduced distortion, since the headhones are not playing as loud, and a filtering effect that makes it easier to hear high frequency sounds.
The PS500MM headset is very lightweight, and the two padded earphone cups rest on your ears without totally enveloping them. The adjustable headband is covered in leather with a layer of polyester foam, and locks in place once you've found a comfortable position. The finish is an attractive, if nondescript, matte black with the Able Planet and Linx Audio logos emblazoned on each side.
The headset's boom microphone is covered by a foam windscreen to reduce the audible effects of plosives (the popping sound from words with the letter p) and breathing. The boom is flexible, but it's in a fixed position extending from the left earpiece, so you can't rotate it out of the way completely when you're not using it, as you can with the mics on many other multimedia headsets.
The microphone's audio quality reproduces speech crisply. I used the PS500MM for several podcasting recordings, and after adjusting levels slightly, I found that the headset's mic was a suitable replacement for the ones on other headsets I normally use. I received no complaints from listeners or the other podcasters I work with.
The wires extending from the headphones feature an inline volume control with a mute switch and a clip, so you can attach this pod to your shirt and easily switch to silent mode if you want to talk with someone else in the room without interrupting your online colleagues. The wires terminate in two 3.5mm miniplugs, one for a microphone jack and the other for a headphone jack; each plug's purpose is clearly marked.
If you have experience with multimedia headsets and the Mac, you know that Apple equips Macs with a line-level audio-input jack—one that doesn't work with microphone-level audio sources without amplification. Fortunately, Able Planet includes a USB interface that you can use instead; you connect the PS500MM's two miniplugs to the USB interface, and then connect the USB plug to one of your Mac's USB ports. This works just dandy: connecting the USB interface causes new input and output sources to appear in the Sound pane of System Preference, as well as in the sound input/output settings of audio software. The PS500MM's USB interface was compatible with everything I threw at it, including VoIP software, audio recording and podcasting software, and games.
The PS500MM's audio quality is adequate, though I have to admit that the benefits of Linx Audio pass me by a bit. I certainly recognize the emphasis in the higher registers, but it seems to be to the detriment of other frequencies. For example, audio in games, outside of highly positional sound effects such as the tinkling of bullet shells hitting the ground, is decidedly flat and almost muted, and when listening to music, audio lacks in the midrange. Bass response is acceptable for the fairly small earcups. The PS500MM's light weight and small design makes it comfortable to wear for long periods and quite portable.
If you're starting to lose some hearing in the upper registers and frequently ask people to repeat what you're saying, the PS500MM may be able to help. Or if you're concerned about aural health and don't want to play your headphones as loud as you used to, these cans may be a good option. They're pricey, however, and don't sound nearly as good as other headphones in their class.