If you love live music but find it difficult to keep track of when all your favorite bands will be in your area, iConcertCal is a must-install application for your iPhone.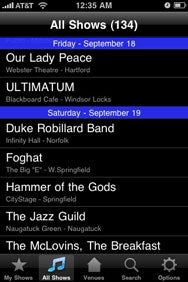 iConcertCal is the work of two former graduate students at the University of Washington, Jeff Cole and Brandon Smith. The iConcertCal app for the iPhone works in the same manner as its older sibling, the "original" iConcertCal, a free iTunes plugin available for both Windows and Mac.
iConcertCal scans the music library on your iPhone and creates a customized schedule called My Shows for any concerts by those artists in your area. At the same time, the $3 app also creates a listing of all concerts in your area on an All Shows tab. For example, iConcertCal found 10 concerts by the 159 artists on my iPhone and 138 shows in my area of Connecticut in the next few months.
Each concert entry contains information about the specific show including all bands performing, the venue name and the venue's street address. iConcertCal also includes quick links to information about the show on the Web, an "e-mail to" button to send information about the show to friends, a map of the venue's location, and a link to listen to the band's catalog on iTunes.
You can display calendars both vertically and horizontally. The vertical view is a simple, scrollable list which moves with a swipe of your finger. The horizontal view displays the same list but adds a large monthly calendar with dates in bold. Tapping on a date in the calendar causes the list to jump to the corresponding show, a small feature useful for planning your audible adventures.
In addition to displaying nearby concerts, iConcertCal also creates a directory of all live music venues in your area. This list can be sorted by distance from your current location or by the venue's name; you can quickly view shows today or any day with a tap of a button. iConcertCal includes a search function which searches the information in each concert entry including all band names, venue names and addresses.
While it may be an incredibly useful application, iConcertCal does lose points for an interface that can be clunky at times. For example, several weeks ago, the application correctly informed me of an upcoming show by the folk-pop artist Joshua Radin in nearby New Haven. The following week, the concert disappeared from iConcertCal on my iPhone. A quick check of the artist's Web site confirmed that the show was still on. I was unable to determine why the date vanished, although it remained in iConcertCal on my Mac. Aside from this incident, the mobile iConcertCal performed well during my weeks of testing the app.
iConcertCal is a great way to keep track of your favorite artists when they announce tour dates in your area. Its simple interface aside, iConcertCal makes following live music in your area easy. What more could a fan ask for?
iConcertCal is compatible with any iPhone or iPod touch running the iPhone 3.0 software update.
[Brendan Wilhide is a frequent contributor to Macworld.com. He writes about sports on Twitter and validates athlete Twitter accounts at his Web site .]
Note: When you purchase something after clicking links in our articles, we may earn a small commission. Read our affiliate link policy for more details.