Editor's Note: The following article is reprinted from PCWorld.com.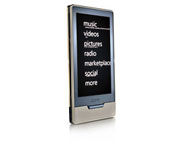 The Microsoft Zune HD is the Zune that I wish Microsoft had released last year. I found a lot to like about the Zune HD and the Zune 4.0 software. The device marks a huge improvement from last year's model in speed, usability, video quality, and design, while the Zune 4.0 software delivers some fun music-discovery features and splashy visuals. But while the Zune HD is priced competitively against the competition (16GB for $220 or 32GB for $290, as of 9/15/09), you'll have to shell out a lot more money above and beyond the price of entry to take advantage of all of its features.
Physically, the Zune HD represents a complete makeover—one that's flashy and sexy. Measuring 4.0 by 2.0 by 0.3 inches, it falls somewhere between last year's hard-drive and flash-based models in size. It weighs a featherlight 2.6 ounces, or 1.5 ounces less than the iPod Touch. A gorgeous, 3.3-inch, multitouch OLED display dominates the device's face, and a single, slim physical home button resides below that.
The power button sits on the top edge of the device, while the volume rocker occupies the left spine. Unfortunately, the rocker is almost completely flush with the metal casing, so it is difficult to press. Also, oddly, you can't actually adjust the volume with the rocker; it merely brings up the touch controls. Instead, while your media is playing, you can just touch the device to bring up the volume controls, which is a lot easier.
Because the OLED display doesn't require a backlight, the Zune HD uses less battery power. Microsoft says that the Zune HD can play music for up to 33 hours, and video for up to 8.5 hours. By comparison, the iPod Touch has 30 hours of music playback and 6 hours of video.
Microsoft stepped up the Zune HD's FM radio functionality by adding an HD radio receiver to the hardware. HD radio delivers cleaner sound than analog FM does, and allows stations to broadcast additional channels with different programming; for example, the San Francisco alternative-rock station Live 105 has an HD station that plays only classic alternative. You can also tag and download the songs you like from the Zune Marketplace. Zune HD radio is 100 percent free—unless, of course, you decide to buy a song.
To fully enjoy the Zune HD's high-def video capabilities, however, you'll have to shell out an extra $80 for the HDMI docking station. The Zune HD supports 720p HD video files, so you can play videos through the dock on your HDTV. Fortunately, Microsoft included the dock in our review kit, so I could test this feature out. The first thing I noticed: Microsoft improved the Zune HD's menu for TV viewing, so you can easily navigate the player on your set. The older-generation Zune menu looked fuzzy and out of proportion on a TV. Video playback on my HDTV looked fantastic, with bright and accurate colors, smooth transitions, and little pixelation.
Video playback on the device itself was impressive, too. While the display is 0.2 inch smaller than the iPhone's, I didn't find it too cramped for watching videos. I purchased the Bat for Lashes "Sleep Alone" music video, which has deep, saturated colors and dark tones. The colors looked accurate played back on the Zune, but the video was still bright enough for me to see all of the detail. I also downloaded and played a fast-paced skateboarding video, and I saw no pixelation, stuttering, or jumps in the motion.
Audio quality was equally good, but you'll want to ditch the included headphones: A multiinstrument black-metal song sounded dull and flat through the Zune earbuds. When I switched to better-quality headphones, the song sounded rich and clean. We'll update this review with the results of the PC World Lab's audio tests when they are complete.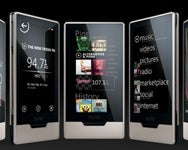 Microsoft has freshened up the Zune HD's interface and fully optimized it for the multitouch display. Navigating through content was actually fun—I could swipe through quick-flying menus to find what I wanted. Unlike on the Apple iPod Touch, the Zune HD's menus have a bit of a 3D effect and move quite fluidly. The Zune HD also has a new menu item called Quickplay, a handy feature that displays your most recently added content and device history, and lets you pin your favorites to the menu, whether it be video, music, photos, or playlists.
Connecting to Wi-Fi took about 30 seconds, but once I got up and running the performance was zippy. I loaded a couple of media-heavy pages, including PCWorld.com and Thrasher.com, and they loaded pretty quickly. (The browser, however, doesn't support Flash, so I couldn't play any of the videos on the pages.) The Zune HD's browser is also optimized to take full advantage of multitouch, so you can tap or pinch to zoom in to a page using the now-familiar gestures. According to Microsoft, the browser is based on Internet Explorer.
The Zune HD has a full-QWERTY touch keyboard, which you can use in both portrait and landscape mode thanks to the speedy accelerometer. It is smaller than the iPod Touch's keyboard, but neither my large-handed friend nor I had any issues using it.
Surprisingly, the Zune 4.0 PC software took some time to download—and even after it downloaded fully, it still had to check for updates before I could use it. Once I got all of that out of the way, it greeted me with my splashy Quickplay page, which is similar to the menu item on the device. You can't sync up the two menus, however; if you add content to your favorites on your Zune, it won't carry over to your PC.
Another new software feature is SmartDJ, which is similar to iTunes 9's Genius Mixes. Right-click on an artist, album, or song in your collection and select 'Play Smart DJ', and the feature will create a playlist from the content in your library and from the Zune Marketplace. You have to buy the Zune Pass ($15 per month), however, to enjoy everything on the playlist; if you don't have one, the songs from the Zune Marketplace are grayed out and you can play only what's in your collection.
It's too bad that getting everything out of this cool feature requires spending extra cash, but you can use the recommendations as a reference if you decide to download music elsewhere. Also, if you have a large collection, you might rediscover some music you didn't realize you had. Zune 4.0 retains the MixView feature (great for geeking out on music history, but you have to have a Zune Pass to use it to its fullest) and the gorgeous Now Playing screen.
In some features, the graphics and pretty animations seemed to bog the software down on my PC. Scrolling through my library was a bit sluggish at times; I had to wait for album art to load fully before I could scroll down further. I also experienced some lag while switching between menus. Let's hope that the software gets speedier in future updates.
The Zune Marketplace still doesn't hold a candle to the iTunes store in the selection of content. The collection is growing, though, with download-to-own TV shows from over 40 networks, and movies have started appearing in the Marketplace too. If you're looking for something fairly mainstream, you'll probably be able to find it in the Marketplace. But if you're searching for something a little more random, like, say, Kreator's video for "Hordes of Chaos," you'll have better luck with the iTunes Store.
The Zune HD is a huge step forward for Microsoft. It offers some unique features that other portable media players don't have, it has a super-pocketable design, and—most important—it works very well. Having to pay extra to use the HD features is unfortunate, however, and I hope that Microsoft either reduces the HDMI dock's price or sells it in an accessory pack (as the company did with the previous models).
Comparing the Zune HD to Apple's iPod line is only natural, but I don't believe Microsoft is positioning its player as an "iPod killer." At this point, I think Microsoft (along with other vendors) knows better than that, and the term is trite. While the Marketplace has a few apps, Microsoft isn't focusing heavily on them. The Zune HD is ideal for people who want to use their device strictly for high-quality video and audio—and who don't want extra clutter.
Note: When you purchase something after clicking links in our articles, we may earn a small commission. Read our affiliate link policy for more details.