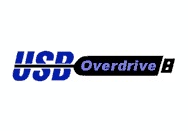 If you're one of those folks whose collection of USB devices is slowly creeping throughout your home like a glacier of gadgetry, then, well, we can't really help you—you may want to consider running for your life. But we also have some good news in the form of a new and updated version of that essential utility for dealing with those myriad devices, Alessandro Levi Montalcini's USB Overdrive—now in 3.0!
USB Overdrive is a venerable piece of Mac software that lets you use all sort of USB and Bluetooth input devices—mice, keyboards, joysticks, gamepads, etc.—with applications that might not necessarily support them, as well as taking advantage of some of those devices' unsupported features. Version 3.0 features a bunch of improvements, not least of which is support for Snow Leopard's 64-bit kernel and a better user interface.
In addition, there are also new assignable actions, device-specific and location-specific settings, the ability to import and export your settings files, and support for even more devices, buttons, and controls, like those media buttons so many USB keyboards seem to have these days. On the downside, support for some specific types of controls is lacking, but the developer aims to rectify that as soon as possible.
USB Overdrive costs $20 for a full license and works with Mac OS X 10.4, 10.5, or 10.6.