Among the many features added to iTunes 9 ( ) is a tweak to the way you can create smart playlists. Using this new feature, you can create nested conditional smart playlists; smart playlists that contain multiple sets of rules, as opposed to simply multiple rules.
A brief introduction to smart playlists
If you're not familiar with the concept of smart playlists, here's a quick primer. With regular playlists, you manually add your favorite songs or videos to them, and you can access these playlists with iTunes or on your iPod, iPhone, or Apple TV to easily play content that you've chosen to group together. Smart playlists work with rules, automatically filling themselves with tracks that match your settings. For example, when you install or launch iTunes, it contains several smart playlists to help you get started. One of them is called Recently Added, and it contains two rules:
Date Added Is In The Last 2 Weeks
Media Kind Is Not Podcast
This smart playlist groups all of the media—other than podcasts—that you've added to iTunes in the last two weeks, so you can enjoy to your newest files without hunting for them.
(For more on smart playlists check out our selection of different playlists, and some smart playlists that use play counts to choose music for you.)
Adding an ellipsis to make smarter playlists
When you choose File -> New Smart Playlist, or Option-click on the plus (+) icon below the sidebar in iTunes, you see the new smart playlist window. With iTunes 9, Apple has added a new element to the smart playlist creation interface. If you've used smart playlists in the past, you'll notice a new ellipsis (…) button at the right edge of the rule line. When you click on it, you get a new set of rules, just like the first one but indented, where you can choose to match Any or All rules in that section of the window, and you can add the rules you want to use in your smart playlist.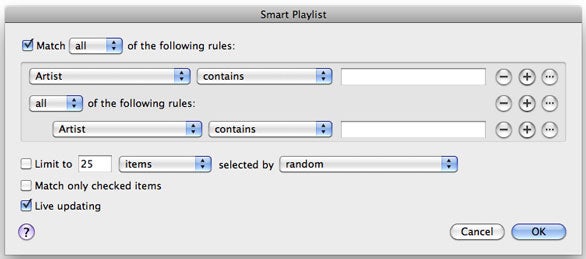 This ellipsis lets you create nested conditional smart playlists, or smart playlists that contain multiple sets of rules, allowing you to enhance the power of smart playlists. Apple actually includes one example in iTunes 9. After you upgrade to the latest version of iTunes, you may have noticed a Classical Music smart playlist (although some users have reported having one). If you option-click on it to see its contents, you'll see that it groups two sets of multiple rules. It tells iTunes to search, first, for Any tracks whose media kind it music or music video, and then to search for any of seven genres—Classical in seven different languages.
Actually, the ability to make playlists like this is not new; Apple has only made it easier. In the past, you needed to create multiple playlists, and choose a playlist as a rule. For example, as a classical music fan myself, I buy lots of music, and I have long had a playlist that holds classical music that I haven't yet listened to. To do this in previous versions of iTunes, I had to set up two playlists. The first finds all my music in classical genres: I don't use a single genre for all my classical music, but rather a number of them, such as Chamber Music, Orchestral, Opera, and so on. Then, I created another playlist that finds music whose play count is zero and that is in the above-mentioned Classical playlist.
Now, I can enter Play Count is 0 part as the first set of rules, and the list of genres as the second set of rules, all in a single playlist.
How you can use nested smart playlists
For starters, if you've ever used a smart playlist as a rule (Playlist Is playlist name) in another smart playlist , you can now use the former's rules as a nested set of rules in the latter. (If you used a standard playlist as a rule, you'll continue to do so in iTunes 9.)
But nested conditional playlists give you some clever possibilities. For example, say you want to make a playlist with some of your favorite podcasts that you haven't yet listened to. You can easily view all of your podcasts in the Podcasts library in iTunes or on your iPod, but you see all of them that way. Make a smart playlist where Play Count is 0, and that matches any of the following rules, where each rule is the name of a podcast.
Or how about sorting live music by several of your favorite artists? I add the comment Live to my live tracks, and I have a playlist that contains only live music by Jerry Garcia or Bob Dylan: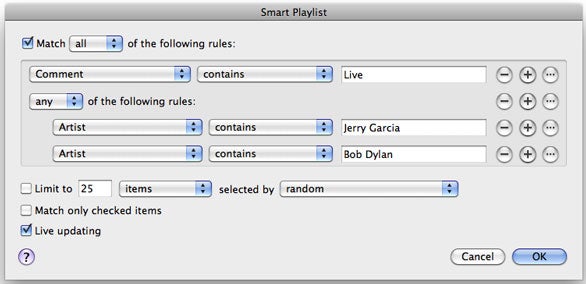 Try out some combinations of rules and see what results from them. You may find that this new feature in iTunes helps you refine your smart playlists and makes them more powerful. And please share examples of your favorite nested playlists in the comments.
[Senior contributor Kirk McElhearn writes about more than just Macs on his blog Kirkville.]