At a Glance
Expert's Rating
Pros
Ships with useable content
Excellent render quality
Added cloth and hair modules
Inexpensive
Cons
Scene setup and camera movement are still a bit awkward
Our Verdict
Since its inception in 1995, Poser has graced the desktops of visual designers, both 2-D and 3-D, around the globe. Over the years, while ownership of the program has changed numerous times, the functionality and usefulness has not. Smith Micro's release of Poser 8 marks a major overhaul of this figure creation program.
Digital content creators such as 3-D artists use Poser to set up and animate human characters, animals, and props. This version ships with over a gigabyte of brand new content such as full human models, animals, hair, expressions, poses, and animation tools. Poser has never been exclusively a modeling program: You can't create 3-D models from scratch, but rather, the software easily allows users to create complete scenes with existing 3-D geometry. The release of Poser 8 brings more than a dozen new features to an already impressive toolset.
New interface
The new Poser 8 interface maximizes screen real estate, while offering new tools, and improved functionality of existing ones. It has less unnecessary fluff than the previous version, for example, the large menu labels on panels are gone, the large icons are now understated, and oversized icons have given way to a newer, more organized list view.
Artists familiar with Poser will recognize some similarity to the previous versions, such as the icon style camera and light controls, as well as the editing tool buttons. However, if you've used just about any other design program, you'll find that the new Poser 8 interface more closely matches an updated style. Windows are now docked rather than floating or expanding, and the tabs to access other areas of the program are more condensed and efficient.
Another new aspect of the improved interface might be a difficult adjustment for existing users. The library had been quite visual with large rendered 3-D icons of the various models and props available. Poser 8 has condensed this area to more of a list view with rendered graphics. At first this will seem awkward, but over time you'll find that the new library list view is much more efficient than previous versions.
Poser 8 also has a streamlined and more functional content management system. With places like Content Paradise offering affordable and quality third-party content for Poser, management of additional props and characters could be a chore. Poser 8's update helps identify and maintain your content.
Dependent Parameters tool
Along with a greatly enhanced interface, there's the new Dependent Parameters tool (DPT). It runs under the hood, making your posing and animation experience a little easier. In the past, trying to make objects interact was a bit challenging, to say the least. The DPT has been introduced to help with full and partial body morphs, advanced body controls, and parameter controlled scene assets. Essentially, this means that you can link independent objects to each other in your Poser scene and make them interact. This feature is still limited, compared to other 3-D applications on the market that are capable of real world dynamics with gravity, wind, collisions, and more, such as Autodesk's Maya ( ), NewTek's LightWave 3D, or Maxon's Cinema 4D. Yet, with Poser 8's cloth system and the new DPT, this capability is plenty strong. The cloth system allows you to add organic animation in the form of shirts, pants, or flags, to your scene.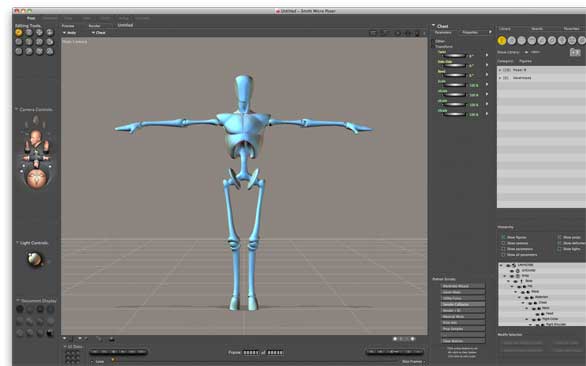 More new stuff
The new version of Poser has a number of additional handy new features that will streamline your modeling work. Here are some highlights: Wardrobe Wizard is cool new feature that will really help visual designers. Perhaps you created a full Poser scene and would like to re-use some of the clothes and assets you've already created. This new wizard will filter these props to the new Poser 8 character set. If you really want to get the most out of this software, you'll appreciate Poser 8's new support for the Python scripting language (wxPython). This will allow third-party developers to create more advanced plug-ins, with increased usefulness, while at the same time fully integrated into the program. It will be exciting to see what developers can come up with to enhance the Poser experience.
Another notable improvement in Poser 8 is Physically Correct Light Falloff functionality. This allows users to control not only the quality of light, but its angle and direction better than before, resulting in better-looking renders.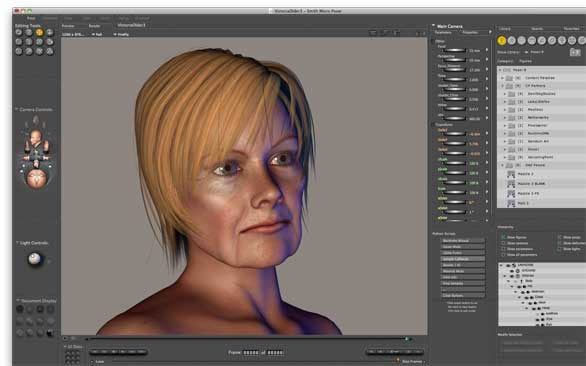 There are also enhancements to OpenGL performance for better interface responsiveness and a greatly improved rigging system. Posed characters will present fewer problems in areas such as hips, shoulders, and joints.
Macworld's buying advice
Poser 8 is a must-have for anyone working in 2-D or 3-D animation and rendering. If you're a 2-D artist, you can user Poser 8's models and existing pose library to create great looking 3-D elements for illustrations. If you're a 3-D artist, you can use Poser 8's models and tools, such as Walk Designer, to instantly create great-looking animations. What's more, the library of objects included can be exported to many different formats such as Maya or LightWave, allowing you to incorporate Poser 8's toolset with other tools you may already use. While you might not want to use it for full-blown character animation, its library of props, clothing, human objects, hair, and poses are worth the $250 price tag.
[Dan Ablan is president of AGA Digital Studios in the Chicago area. He has written 13 books on 3D animation, digital photography, and Photoshop. He is also founder of 3D Garage.com, an online training resource.]