Earlier this summer, Ntractive updated and renamed its customer relationship management program. Now the software maker has come out with an iPhone version of the product.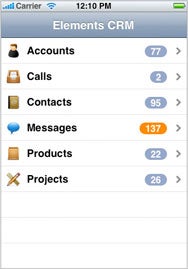 Announced Wednesday, Elements CRM offers several of the critical features from Ntractive's cloud-computing-based product—chiefly, contact management and time tracking. The Elements CRM app also displays product inventory and active projects with task-management tools. With the mobile app, users are working with live data, so there's no need to sync the iPhone with the desktop after you've entered new data.
The app is a free download for any iPhone or iPod touch running the iPhone 2.2.1 software update. The mobile program requires an Elements CRM subscription. A 12-month subscription to Elements CRM costs $60 per user per month with a $99 fee for setup and a first month of unlimited usage; more pricing info is available from Ntractive.
Wednesday's announcement of the iPhone app caps off a busy few months for Ntractive, which released version 2.0 of its CRM application in July, while renaming it Elements CRM. (Previously, the application was known as Elements SBM.) Elements is aimed at helping companies manage how they communicate and interact with customers.
Note: When you purchase something after clicking links in our articles, we may earn a small commission. Read our affiliate link policy for more details.