All work and no play makes for a dull Mac user. So when I need a few minutes decompression, I usually head over to Sporcle to while away the moments taking an online quiz or two.
These aren't the "Which Obscure Muppet Are You?" or "Which Shade of Blue Best Describes Your Personality?" quizzes that litter Facebook. ("Lew Zealand" and "Navy Blue," by the way.) Rather, Sporcle's quizzes give you a category—Most Populous Cities in each U.S. State, say, or Members of the Baseball Hall of Fame—and make you type in as many correct names you can think of in a set amount of time. Not exactly MENSA-level brainteasers, but it makes me feel like I'm taxing the ol' gray matter a little bit, even if I am goofing off.
Also, I enjoy it when Sporcle's quizzes touch on the Mac universe—as one of today's entries did.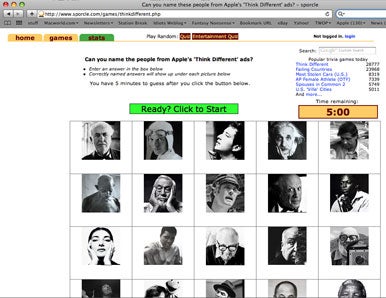 The quiz: Name the people who appear in Apple's "Think Different" ads. You have five minutes. Go.
Me, I got 19 out of 20. I comfort myself with the knowledge that the one person I missed was apparently only correctly identified by 1.2 percent of the 28,000 or so people who've taken the quiz as of 3:30 p.m. PT Wednesday. (A criticism: The quiz would be more challenging if it didn't feature mug shots of each of the 20 "Think Different" personalities. But that's a minor quibble.)
That's not the only entry that may intrigue Mac users in Sporcle's seemingly bottomless pool of quizzes. You can also test your ability to identify the computer product lines released by Apple, the components in The Oregon Trail game, and the products that make up Adobe's CS4 Master Suite Collection. I won't tell you what I scored on that one, but I now feel an irrational resentment toward Version Cue.