Racer by Tatem Games is a beautifully designed, addictive game that will rattle your nerves worse than rush-hour traffic but keep you coming back for more.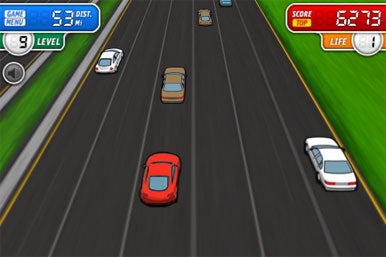 There are no curves to navigate in this $1 racing game. All you have is six straight lanes of endless highway. You drive your car with your finger by swiping across to change lanes, while swiping forward and backward to speed up or slow down.
The cars are moving quickly, but you're always the quickest so your job is to change lanes to avoid the cars coming toward you as you pass them. The lanes are pretty narrow so it will take some skill—even the slightest contact with another car results in total destruction and a lost life. The longer you can last, the more points you get. Drive faster to accrue points faster. Every 2,000 points rewards you with an additional life.
You really appreciate the smooth control the iPhone or iPod touch interface permits when you play Racer. The cars move very fast and you need to swipe your car through the lanes even faster if you're going to survive.
The game is very addictive, and I found myself bent on improving my scores. Racer keeps track of your scores and registers them in a global scoreboard. With Facebook integration, you can see how you compare with your friends and post your scores as status updates.
A beautifully designed interface rounds out this excellent game. Each main window is part of a virtual road sign. Swipe to the right and you see the settings screen where you can disable sound effects, change between two difficulty settings, enable vibration, and change the color of your car. You can also change between metric and English units since Racer keeps track of the total distance you have driven. Swipe down to see the help screen and swipe to the left to see the different scoreboards.
Racer is a very well executed casual game and an excellent value. With even more features promised by the developer in future updates, I expect Racer to become even better down the road.
Racer is compatible with any iPhone or iPod touch running iPhone 2.2.1 or later.
[James Savage is the host of the RetroMacCast a weekly podcast devoted to older Macintosh computers.]