Lugging around a bag of notes and flash cards to study on the go is a hassle, so StudyBlue hopes to eliminate the hardship with the release of its self-titled iPhone app. If your high school or college participates in the Study Blue program, this free app is a breakthrough idea.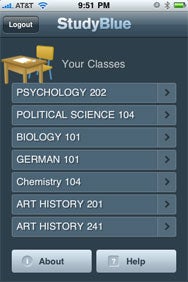 The StudyBlue iPhone app ties in with a StudyBlue account online, but you must be a paid "Premium" member to use it. (Premium membership costs $10 a month or $60 for a year.) Free accounts are available, but they cannot interface with the iPhone app—a real study bummer.
Launching StudyBlue shows a list of your classes, with a clean interface for you to interact with notes, flash cards and tests. You can also access other students materials if available; just touch the class name to get started.
Flash cards present an easy way to study on the go. You can study a "deck" one by one, or view all of the cards as a list. When studying a deck, you are shown a question on the front of the card, and you "flip" with a swipe to see the answer. Below, you are asked if you got it correct. The end of the deck gives your score and an option to study all the cards again or just the ones you missed—assuming that's not all of them.
The app's notes section gives you a look at notes posted by anyone in the class. Word docs, PDFs, images and several other formats supported by the iPhone are available. The notes and images look great and are easy to read; you can even zoom in with a pinch, in case you need a closer look at that respiratory system.
The StudyBlue app is well put together and intuitive. If your school participates in the program, it might be worth the premium upgrade just to stop carrying around all those note cards.
StudyBlue is compatible with any iPhone or iPod touch running the iPhone 3.0 software update.
[ Jeff Phillips is an educator, photographer and technology advocate. Find him on his blog or podcast.]