I recently spent an afternoon at Del Mar watching the horses run and chatting with a friend of mine who has made a respectable income peddling financial advice. I asked him what he reads, and he replied quickly: "None of the mainstream papers, if that's what you're wondering."
That was what I was wondering, actually.
No surprise, a lot of pros like their financial news and information specialized. But for the rest of us, we're content to read what we can in the papers and online. There is, of course, the Wall Street Journal, which has its own app for the iPhone and iPod touch ( . On the Web, there is RealClearMarkets, a companion site to RealClearPolitics that aggregates financial news and information from mainstream financial publications and the occasional econoblog.
And on the iPhone and iPod touch, there are several apps that appeal to business news junkies. Here are four apps that cater to business news and economics aficionados.
Read more…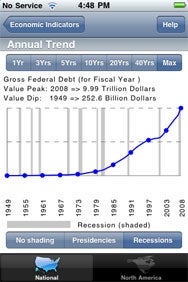 As I mentioned, professionals such as my financial advisor pal prefer data from primary sources, generally unfiltered. For them, it's tough to do better than Cascade Software's Economy app. Economy aggregates weekly, monthly and quarterly information from government sources and the Federal Reserve. The app is a one-stop shop for 39 of the leading indicators that economists and financial analysts love to parse, from unemployment rates and manufacturers' durable goods orders to net exports of U.S. goods and services.
The $1 app also features graphs for each of those indicators, letting you track the data over a range of time periods. You can also view economic progress (or regress, as the case may be) across Democratic and Republican presidencies, as well as recessions, since the late 1940s. That said, specialists are likely to complain that Economy lacks a certain amount of depth, given the sheer volume of data available through the Fed and other government agencies.
The frequency with which Economy updates its information—usually once a week, with some big reports such as unemployment landing the last week of the month—makes the app more of a reference tool than a news app. As with the other apps under review here, Economy requires a 3G, EDGE, or Wi-Fi connection to retrieve data. It's a handy resource to have available in the palm of your hand. (I could have used a tool like this one 10 years ago when I wrote editorials for a national daily business newspaper targeted to investors.)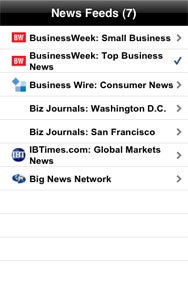 I recently criticized a politics newsreader app called iPolitics as "curiously limited." Although the app is richly sourced, you can't really customize it, and it lacks most of the standard features of an RSS reader. Well, if iPolitics is "curiously limited," then Splaysoft's $1 Business News Reader is ridiculously limited. Want to add a feed from, say, the Wall Street Journal? You can't. Want to delete one of the paltry seven feeds that Biz News offers? Sorry, you can't do that, either. You can share links by e-mail, but not on Facebook or Twitter. Basically, if it's something you might want to do—other than scroll headlines and summaries and read stories, that is— you can't do it. This is not a customer-friendly business reader app.
On the positive side, however, Business News Reader does support the landscape view.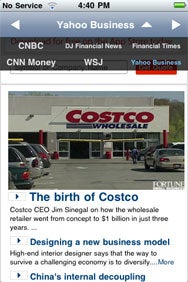 Sudobility's $1 Money News is similarly limited, but at least its six sources are first-rate. The app features six finance-focused news sites that have been more or less optimized for handheld viewing. They include CNBC, Dow Jones Financial and the Wall Street Journal, the Financial Times, CNN Money, and Yahoo Business News, which incorporates Dow Jones, the Associated Press, Reuters and Bloomberg. (I would be remiss if I didn't mention Bloomberg's excellent iPhone app ( ), which provides a wealth of news and data in a compact but user-friendly package.)
You can navigate among the sources using a top horizontal navigation bar. I usually detest horizontal navigation, but at least all of Money News's sources fit on one screen. You can open and close the navigation bar with a tap.
Although Steve Parker's $1 Business News is another browser-based source aggregator, it could never be mistaken for Business News Reader or Money News. The app's slick interface features 12 news sources, including Bloomberg, BusinessWeek, CNBC, CNN Money, Dow Jones and the Wall Street Journal, the Financial Times, Fox Business, NPR, Reuters, and Newsweek. Unlike Business News Reader and Money News, you can add as many sources as you like to Business News.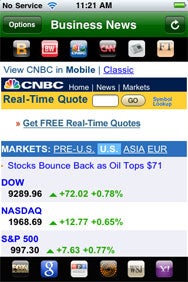 Business News is part of the EZ News family of apps. What makes it EZ…, er, easy? Navigation is simple. You tap the "options" button in the upper left to make your browser navigation and bookmark buttons appear and disappear. The app displays its sources as graphic icons at the top and bottom of the screen in portrait mode, and retracts them when you go into landscape mode. To navigate in landscape, you simply shake your handheld and the navigation controls appear.
Not all of the sites that Business News offers are optimized for handheld viewing. The Wall Street Journal and Financial Times, for example, are simply those publications' Web sites. You can zoom in and out of text with a pinch or a tap.
Bottom line: Business News provides the best round up of sources with a user-friendly interface, while Economy offers up easily digested chunks of essential economic data.
Economy and Money News are compatible with any iPhone or iPod touch running the iPhone 2.x software update. Business News and Business News reader require the iPhone 2.2.1 update.
[Ben Boychuk is a columnist and freelance writer in Rialto, Calif. Feel free to e-mail him.]
This article was updated on September 18 to correct a statement about a feature in Economy. The app requires a Wi-Fi, 3G, or EDGE connection to retrieve data. This correction did not impact Economy's mouse rating.