Sony's PSPgo is a new portable version of its five-year-old PlayStation Portable handheld gaming platform. The device launches in US and Europe in October, and it's set to go head to head with Apple's iPod touch. But Sony has revealed that its software strategy for the PSPgo lacks some critical features that Apple already makes available for iPod touch games.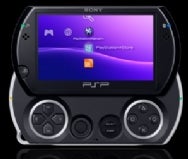 According to a report on game site Gamasutra, Sony has confirmed that Sony's "Mini" games for the PSPgo will not have wireless multiplayer functionality, downloadable content or software updates — all features available to iPod touch and iPhone gamers in iPhone OS 3.0 or later.
Justin Cooney, senior account manager at Sony Computer Entertainment America, told Gamasutra the decision was made to "accelerate the approval process." He said that additional quality assurance (QA) was required to initiate those features, and that such capabilities "increase the barriers" for a timely release.
Apple has touted iPhone OS 3.0's support for downloadable content — a feature Apple calls "In-App Purchases." Games for the iPhone and iPod touch can also support Wi-Fi and Bluetooth-based multiplayer modes, and the ability to update to fix bugs or add new features has routinely been supported since the launch of the App Store more than a year ago.
The PSPgo is the first PSP model to eschew the Universal Media Disc (UMD), a 1.8-inch optical disc Sony developed as a game delivery system for the original PSP. The system features a sliding screen and smaller design that makes it easier to pop in a pocket and carry.
Instead, PSPgo users will download games through Sony's online PlayStation Store through a Wi-Fi connection. Sony's already begun to publish downloadable games for the PSP through the store, although many are retreads of classic titles developed for the original PlayStation.
"Minis" are smaller games limited to 100MB in size, to give PSPgo and other PSP users access to more games. Sony plans a very modest start with Minis — only 15 are expected to debut when the PSPgo goes on sale in October for $250, priced mid-way between Apple's 8GB and 32GB iPod touch models.