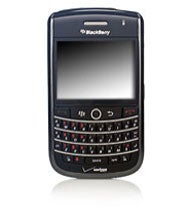 Problems with the trackball on BlackBerry Tour phones have led to return rates near 50 percent, an analyst at TownHall Investment Research said.
Users are complaining about the issue in a number of online support forums. They say that they must roll the trackball repeatedly for it to move the cursor on the screen only minimally.
One user said he was on his fourth Tour, after returning the previous three due to problems with the trackball.
Another has posted instructions for how to take apart the phone to try to fix the problem.
Nearly 50 percent of Tours that Sprint sells are being returned, analyst David Eller at TownHall Investment Research wrote in the report. While the trackball problem is the primary reason for the returns, some customers are complaining about the sensitivity of the touch screen, he said.
Sprint did not confirm the return rate. "We experienced a small percentage of early production BlackBerry Tour smartphones with trackball issues," Mark J. Elliott, a Sprint spokesman, said via e-mail. "As soon as the issue was identified, we worked closely with our partners at RIM to resolve the problem quickly."
Verizon also minimizes the issue. "The Tour is not being returned at a high rate," Jim Gerace, a Verizon spokesman, said. "It has in fact one of the lowest return rates of any device we currently sell."
Verizon caught the problem with the trackball early on and only a "small number" made it to customers, he said. He could not specify how many.
On Thursday Eller says he's confident that his report is accurate and the statements from the operators conflict with his research. He did not examine all Sprint retail channels but talked to people in the field who reported the high return rates. "Whether or not that's representative of Sprint in its entirety, that's tough to say, but it is happening," he said.
There's no question that Verizon is frustrated about the problem, he said. That's in part because the majority of smartphones from Verizon come from Research In Motion, the BlackBerry maker. He expects this situation to spur Verizon to more heavily promote forthcoming phones from Motorola as a way to try to pull back on its reliance on RIM.
Eller wanted to correct an error in his original report. It said that some returns were due to problems with the touch screen on the Tour. However, the Tour doesn't have a touch screen. Eller said that line was added by someone else or incorrectly edited after he authored the report.
Around Aug. 10, people began reporting in the forums that Research In Motion and Verizon said a firmware fix would be issued in 30 days and would resolve the problem.
Eller expects the issue to put "additional pressure" on RIM's financial results because the high return rates will hurt margins. "These issues amplify our concerns about RIM's ability to sustain margins while entering the consumer market," he wrote in his original report.
By publication time, RIM had not replied to a request for comment made on Wednesday morning.
Updated at 2:06 p.m. PT to add a comment from Verizon and additional comments from Eller.
Note: When you purchase something after clicking links in our articles, we may earn a small commission. Read our affiliate link policy for more details.