A pair of productivity powerhouses are sharing their superpowers in a partnership that would make the Wonder Twins envious. reQall and Evernote announced the other day that users of their respective products will be able to easily share, link, and find information across their services.
Evernote, as you know, lets you capture notes and manage information, whether its via the desktop app, Web site, or mobile offering. reQall offers an iPhone app that's billed as a voice-enabled memory aid: just record a voice memo, and reQall converts what you say into text.
Under the partnership between the two services, users will be able to save items to Evernote that reQall can retrieve. As detailed at the reQall Web site, all users have to do is connect their Evernote account to reQall via the latter's Web Settings page. The reQall iPhone app can then search all notes at Evernote for anything related to reQall items by way of title, tag, or words in an image. Whatever is found is listed under the Related Items buttons on the reQall app's Here and Now and Item Details screens.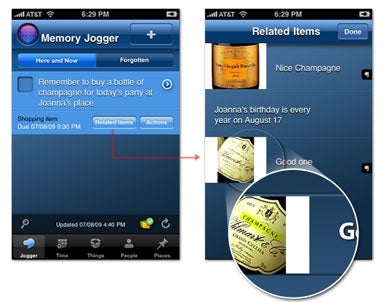 Take the image to the left, supplied by reQall. The first image shows the Here and Now screen in reQall with a reminder to pick up champagne for an upcoming party. Tap on the related items button, and you'll see the second screen which features a note retrieved from Evernote containing information about champagne. Notice that the mere presence of the word "champagne" in the image of a label was enough for reQall to know to grab the note and add it to the Related Items list.
Evernote offers a free iPhone app that works with free and paid Evernote.com accounts. (A paid account costs $5 per month or $45 per year.) reQall for the iPhone is a free download as well; it works with either the free reQall Standard account or a $25-per-year reQall Pro membership.
Note: When you purchase something after clicking links in our articles, we may earn a small commission. Read our affiliate link policy for more details.