Tidy Up, the duplicate finder and disk-tidying utility from Hyperbolic Software, is now compatible with Apple's latest software releases after an update on Thursday.
Tidy Up 2.1 adds full compatibility with Snow Leopard, the Mac OS X update released last month, and iTunes 9, a new version of Apple's all-purpose music software released last week.
Tidy Up finds duplicate files on your hard drive using a fast algorithm to scan any mounted hard drives without writing an index. The software underwent a major overhaul in April when Hyperbolic released Tidy Up 2.0.
Hyperbolic says it's cutting the price on Tidy Up from $39 to $30 for a limited time. The 2.1 update is free to 2.0 users; others can upgrade for $20. The software runs on Mac OS X 10.5 and later.—Philip Michaels
Curio 6 features integrated tables
Zengobi has released version 6 of Curio, adding integrated native tables to the note-taking, mind-mapping, and brainstorming application. The newly added integrated tables can contain text, images, weblinks, and documents, along with any associated flags, Zengobi says.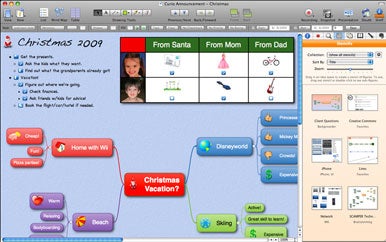 Curio 6 also features a figure stencil repository for access to commonly used figures and grouped figures; user-extensible custom flag icons, and new mind map line styles and automatic branch colors as well as other enhancements.
The application comes in two versions—a $99 Standard edition and a $149 Professional version. Upgrade and academic pricing is also available through Zengobi.—PM
Skype update fixes Snow Leopard bugs, other issues
A new version of the Skype Voice over IP client came out Thursday containing a number of bug fixes—some of which are specific to Mac OS X 10.6.
Among the fixes that deal specifically with Snow Leopard, Skype 2.8.0.722 tackles layout issues in the video window when a video call is put on hold. It also deals with the Type Number text field being too dark in the Call Phones and Send SMS windows. Finally, the update fixes an issue where the main window did not display properly when you signed in as another user from the Account menu.
More general fixes addressed crashes, a problem with creating contact requests that disabled your ability to keep your status hidden, and a screen-sharing problem in full-screen mode, among other issues. The 44MB download is available from Skype.—PM