Private Pics from David Earnest is a nice little app for keeping your sensitive photos under lock and key. While locking your iPhone with a password will keep unwanted eyes from accessing anything on your phone, that's not much of a solution if you hand your mobile device over to a friend. Luckily, Private Pics offers another measure of security.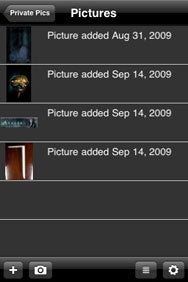 Private Pics is like a password-protected vault for your photos. To add pictures to Private Pics, you can either import them from your photo library or, if you've got an iPhone, take new ones with the built-in camera. Keep in mind that importing a picture from the photo library leaves the original in place; you'll have to manually delete it from the photo roll to keep it away from prying eyes. Once the pictures are inside Private Pics, you can add notes to them and keep them all organized with custom folders.
You can view your photos inside the app in both landscape or potrait mode as well as a slide show. Pictures are displayed full-size with support for zooming, using the familiar pinch gestures.
As an added layer of security, you can even set up a decoy password that will take you to a second set of photos.
In addition to the $2 Private Pics, the developer also offers a free lite version, which limits you to one folder of up to 10 pictures. It's a fine choice if you only need to protect a few photos, but if your privacy needs are more demanding, I recommend upgrading to the full version.
Private Pics is compatible with any iPhone or iPod touch running the iPhone 2.2.1 software update.
[Tim Mercer is a technology enthusiast, graphic designer, and blogger, whose blog, digital-artist-toolbox.com, offers free resources to the digital artist and graphic designer.]
Note: When you purchase something after clicking links in our articles, we may earn a small commission. Read our affiliate link policy for more details.