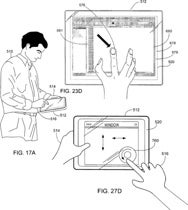 Sure, we'd all like a glimpse of the mythical Apple tablet, in the same way that we'd all like to see Bigfoot or the Loch Ness monster or a duck-billed platypus playing the accordion. But how much better would it be to own one for free? (An Apple tablet, that is, not an accordion-playing monotreme—actually, that would be pretty cool.)
Germany-based property-recovery service Regman is giving away an Apple tablet in a contest for its followers on social networking site Twitter. That's right: you too could win a never-before-seen, potentially non-existent product just for following them on Twitter and re-tweeting an item found in the news section of Regman's site. Amazing! And not at all a way to boost their follower count and get people to read their site!
Maybe I'm just being petty, letting the mundane facts of existence get in the way of fabulous cash and prizes. Regman CEO Heiko Pohlmann says the company strongly believes—inasmuch as a company can believe anything—that Apple will launch a tablet early next year. "So we take the risk to offer a prize that is not available yet." Er: I'm not sure you're clear on what "risk" means. It's not much of a risk if you don't deliver something that doesn't exist, huh?
To be fair, if the tablet isn't announced, Regman says it will give the winner "whatever else will be presented next January—worth up to 1500 Euro (approx. $2200)." January, huh? Given that Apple's not showing up at Macworld Expo, which has been moved to February anyway, what makes Regman so sure that anything will be announced in January? On the flipside, what if Apple announces new iPod socks? Woo-ee, that's almost as good as getting a mythical tablet.
Actually, come to think of it, it's better because they will actually exist.