If you have a child in elementary school, you're probably familiar with Brain Quest: it is most visible in the children's book sections of bookstores, in the spot reserved for educational items that aren't quite books but aren't quite toys, either. In physical form, Brain Quest is a deck of attached cards. The long, thin cards have questions on the front and answers on the back. There's no "object" to flipping through the cards and tossing questions to your kids, except to interact and learn and think. You don't score points. You either get the question right or wrong, and then you move on. Simple, but deceptively fun and addictive.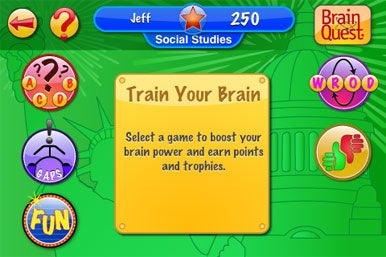 While the Brain Quest decks edge closer to the "Edu" side of the "edutainment" equation, the iPhone games based on this question-answer format fall closer to the "tainment" side.
Modality has created iPhone versions of Brain Quest Blast Off games for grades 2 through 7; both me and my 8-year-old daughter spent time playing the versions for Grade 2 and Grade 3. A brief attempt at the Grade 4 version sputtered, as my daughter, who's in grade 3, had no tolerance for the lopsided number of wrong to right answers she got at that level.
She enjoyed playing the Grade 2 version the most, because it was a game she could easily win, and despite the educational virtues of these games—they are about knowledge and problem solving—the object is to score points, beat the clock, and move up levels. She considered the Grade 3 version just "OK," which meant when she had the iPod touch in her hand, she wanted the fast positive feedback you get when you answer correctly and win. Getting wrong answers—and taking longer to puzzle over the ones she eventually answered correctly—didn't provide the same rush.
Such is life. But she thought she was playing a video game.
Read more…
Each version of Brain Quest Blast Off includes a variety of subjects: math, language arts, social studies, and science and "grab bag" are included in the Grades 2 and 3 versions. Each also provides a variety of question/answer formats: multiple choice, word scramble, fill-in-the-blanks, and true/false, for example. You must complete each subject in each round before you can progress to the next round, which means that "winning" the game takes a lot of time.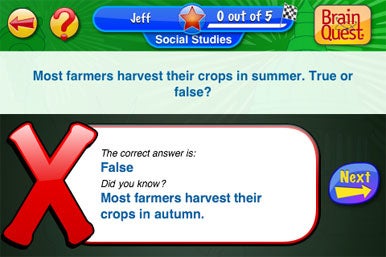 Modality cleverly enables you to earn plenty of digital trophies along the way, which you can view in your "trophy case." Even though my daughter didn't play long enough to actually progress through all the rounds, she did enjoy showing off and admiring her trophy case. And, of course, the fact that there are many rounds is a testament to the sheer quantity of content stuffed into each of the games.
The content, as anyone who's familiar with the card decks, is of a very high quality. My daughter's only complaint was that some of the questions were in areas simply not covered in her second grade class or contained concepts still unfamiliar to her. It's a valid complaint, for those who play the game. However, since there's no standard national curriculum, the only apparent solution to this problem—to only include a narrow, shallow group of questions representing the lowest common denominator for each grade—would fail to be very educational.
Modality has done a terrific job of transferring the Brain Quest experience to the iPhone. It's not easy to replace to the tangible feel of the cards and a progression through a deck; Modality was wise not to try to replicate that experience, and instead to work with the questions and "spirit" of Brain Quest as a starting point for a game that encourages sharp thinking.
My daughter, who has a moderate amount of computer gaming experience—but mostly with "casual" games—understood the game's interface quickly and easily navigated her way through. In this fashion, Modality succeeded in making the thinking part hard, and the game play easy.
Brain Quest Blast Off: Grade 2 and Brain Quest Blast Off: Grade 3 are compatible with any iPhone and iPod touch running the iPhone 2.2 software update.
[Jeff Merron is a freelance writer and editor living in North Carolina.]