Bose has announced the fourth product in the company's iPod speaker line, the SoundDock 10 digital music system.
Like previous models—the original SoundDock, the SoundDock II, and the SoundDock Portable—the SoundDock 10 is a one-piece speaker system with an iPod dock. But the SoundDock 10 is considerably larger at 17 inches wide, 9 inches tall, and 10 inches deep. The company says this increased size allows the system to provide better low-frequency response and achieve louder volume levels. The SoundDock 10 also incorporates a new version of Bose's "waveguide" technology and a newly designed Bose woofer.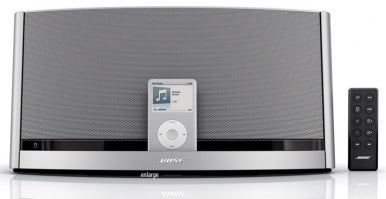 The SoundDock 10 features an internal power supply, eliminating the need for an external power brick, and magnetic shielding. It's Made-for-iPod and Works-with-iPhone certified, although the system's dock uses a new interchangeable design that can also accommodate an optional ($150) Bluetooth dock for streaming audio to the SoundDock.
The $599 SoundDock 10 will be available on September 21.