At a Glance
Expert's Rating
Cons
Quirky firmware update process
Our Verdict
CalDigit's VR Mini is one of the more uniquely designed external storage devices on the market. Its orange LCD screen gives it a distinctive look, and its configurable RAID 0, 1, and JBOD settings are quite impressive considering the device's small size. The VR mini is designed for the "content creation industry," a.k.a. AV pros and other creative types, and CalDigit says it can play back high definition video with ease. In our tests, the quad-interface VR mini performed exceptionally fast, making it a pricey but high-performance storage device.
The VR Mini is a silver aluminum brick that is slightly heavier and bulkier than competing external drives. While it can fit into your backpack, it's way too big a unit to fit in your pants or shirt pocket. The design features no fan and runs fairly quietly but the aluminum exterior can grow a bit warm to the touch during use.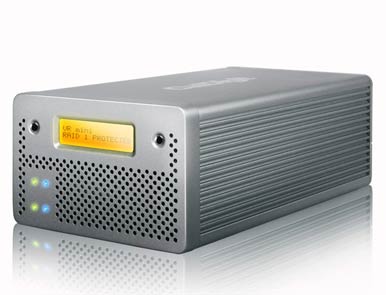 Instead of a using a single drive mechanism, the VR mini uses 2.5-inch drive mechanisms that are mounted in two removable modules. By simply unscrewing the back panel (no tools required), each drive module can be pulled out and replaced with ease. The orange-lit LCD screen allows you to view basic information about the drive's status, as well as see the settings as you adjust the basic functions. The VR Mini's RAID configuration can be viewed and edited from the screen, and useful statistics like temperature and available memory are displayed on a rotating scrolling basis. Due to the large amount of information and the small screen, it's ambitious design is a bit difficult to navigate and can be unintuitive without an instruction manual.
The VR mini offers four types of connectivity: USB 2.0, eSATA, FireWire 400 and FireWire 800. The device is bus powered via FireWire, so external power is only needed when using the eSATA or USB connections (though FireWire can be used instead of an external power source if need be).
The RAID 1 feature allows for protection and backup of valuable data by mirroring data on both drives. If a drive fails, all data can be restored from the other drive. The downside is that in a RAID 1 configuration you get only the total capacity of a single drive.
You can also configure the VR mini as a JBOD through the LCD screen or with the packaged software, thus allowing you to partition the drive as you see fit. Alternatively, you can opt for the standard RAID 0 configuration which is ideal for fast transfers and offers more storage space, but your data won't have RAID 1's mirror capabilities, and if one drive fails, you lose all of your data.
The bundled software provides password protection, an error/event log, a firmware updater, a RAID configuration feature, and Turbo mode, a feature that is designed for video editing to enable better thoroughput. CalDigit releases frequent firmware updates on its support Web site. They also offer an instructional video about the intricacies of downloading and installing the RAID tool and its updates due to some quirky software protocols.
Timed trials
| | |
| --- | --- |
| Copy 1GB file to USB 2.0 | 0:50 |
| Copy 1GB file to FireWire 400 | 0:48 |
| Copy 1GB file to FireWire 800 | 0:36 |
| Copy 1GB file to eSATA | 0:30 |
| Duplicate 1GB file via USB 2.0 | 1:17 |
| Duplicate 1GB file via FireWire 400 | 1:04 |
| Duplicate 1GB file via FireWire 800 | 0:40 |
| Duplicate 1GB file via eSATA | 0:25 |
| Low-memory Photoshop: USB 2.0 | 1:20 |
| Low-memory Photoshop: FireWire 400 | 1:14 |
| Low-memory Photoshop: FireWire 800 | 0:58 |
| Low-memory Photoshop: eSATA | 0:52 |
Scale = Minutes: Seconds
The device has an independent CPU and dedicated cache memory to manage the RAID volume. This dedicated processor supposedly removes additional strain from your computer's CPU, allowing applications "full access." As opposed to software RAID systems that rely on the host CPU and RAM and therefore tax the computer's CPU, CalDigit's hardware RAID can run faster because it doesn't tax the workstation's CPU as much.
The device comes formatted using HFS+ (Mac OS Journaled) and RAID 0. The hard drive mechanism is manufactured by Hitachi and has a bus speed of 5400 rotations per minute.
While we don't test for speed with RAID 1 configurations, we did test the VR mini with our usual bout of hardware tests in a RAID 0 configuraton. Initially, the VR mini turned in only decent times, but upon reformatting the drive the device's scores were some of the best we've seen, only bested by G-Technology's G-RAID mini2 SSD ( ).
While using its eSATA connection, the VR mini finished our 1GB copy test in 30 seconds, a new top score for a non-SSD drive. In fact, the results using all four connection types on the VR mini beat or were statistically similar to the G-RAID Mini2 SSD's times.
The duplication tests were also exceptional. It only took the VR mini 25 seconds to duplicate our 1GB folder using eSATA, again a bit faster than the G-RAID mini2 SSD and beating Verbatim's 1TB Professional Quad-Interface Desktop Hard Drive ( ) by a full 9 seconds.
The VR mini's results in our low-memory Photoshop tests were equally impressive against competing non-SSD drives, but cannot compete with a SSD. The G-RAID mini2 SSD finished our low-memory Photoshop tests with its eSATA connection at a scorching pace of 30 seconds and the VR mini is so far one of the only conventional drives out there to even approach that number. While using its eSATA connection, the VR mini finished the regime of tests in 52 seconds–respectable, but by no means record-breaking. For comparison, however, the FireWire 800 connection finished just under a minute, which is over 10 percent better than the Verbatim's eSATA score.
The box for the VR Mini boldly declares, "Serious storage." To go along with it, it has a serious price tag. We tested the 640GB model, retailing for $629. That's a price-per-gigabyte ratio of $.98. While that sounds high (and it is compared to other most portable drives), the G-RAID mini2 SSD still has a price per gigabyte ratio over $4. CalDigit offers a one-year warranty for the hardware, but not the data.
Specifications
| | |
| --- | --- |
| Price per gigabyte | $0.98 |
| Connectors | USB 2.0 (1), FireWire 400 (1), FireWire 800 (1), eSATA (1) |
| Rotational speed | 5400 rpm |
| Other capacities | 1TB ($699) |
Macworld's buying advice
The high-performance and high price tag of the VR mini make this a great fit for audio/visual professionals but sadly out of the reach of most mid-level consumers. It's one of the fastest drives we've tested and has a bundle of great features to offer its users, but audio visual professionals will need to invest in the larger capacity models of this line, in which case they'll have to dish out even more money.
[Chris Holt is an assistant editor for Macworld.]