At a Glance
Expert's Rating
Pros
Attractive, user-friendly case design
Multiple connections
Cons
Problems using USB with Toast
Our Verdict
Just because Apple hasn't embraced Blu-ray doesn't mean that we Mac users are left out in the cold. OWC, along with other companies, have decided to start offering Blu-ray burners for the Mac-using public. The company's quad interface Mercury Pro 8X Blu-ray External drive can burn single- and dual-layer Blu-ray discs, as well as perform the standard SuperDrive capabilities like single and dual layer DVDs and CD-Rs. And though we had trouble with its USB connection, its three other connections worked flawlessly and turned in respectable speed test results.
The Mercury Pro comes in an attractive gray case with the mechanism's face flush with the front of the case. I prefer this design to cases with flimsy external doors that pop open when the drive is ejected (hello, Buffalo), or cases with the drive recessed a bit, making it a little more clumsy to eject and insert media. You can connect the drive to your Mac via USB 2.0, FireWire 400, FireWire 800, and if you have an eSATA card installed, you can connect that way too.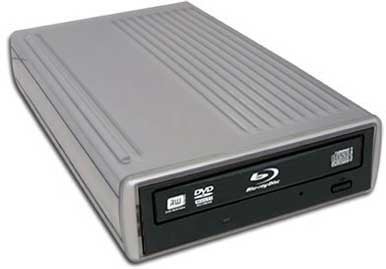 You can burn data to Blu-ray discs right from the Finder in OS X, 25GB for single layer media (BD-R) and 50GB on dual layer discs (BD-R DL). To burn your home movies onto a disc that you can watch on your living room Blu-ray player, you'll need some extra software like Compressor ( ) from the latest version of Final Cut Studio or Toast Titanium with its $20 HD plug-in.
Good performance
The OWC drive was a decent performer; out of the five timed tests we ran on a recent batch of Blu-ray drives, the OWC posted the fastest times in our DVD+R DL burning test using Toast Titanium 10 and was not far behind the leaders in three of our other tests. It was a bit poky in our Burn and Verify DVD-R Finder test. And while the drive performed well against the other drives in its class, the performance results from the drive's different connections were a bit of a mystery. Burning a DVD-R took 5 minutes and 50 seconds when using FireWire 800, 7 minutes and 44 seconds when using FireWire 400, and 8 minutes and 26 seconds using eSATA—a connection generally faster than either flavor of FireWire. The only test where the Mercury Pro's eSATA connection was faster was in our dual-layer DVD burn, which it completed about 2 minutes faster than the FireWire 800.
Even at its slowest, the OWC was considerably faster at burning single- and dual-layer DVDs than the stock optical drive in our Mac Pro. Unfortunately, we did have some problems with the USB connection using Toast Titanium. The Mercury Pro was not the only drive to create coasters, in fact three of the five drives we recently tested had problems burning DVD+R DL media using Toast. Luckily, the other three interfaces worked just fine in all of our tests.
Macworld's buying advice
If you're looking for a new optical drive, and one that can burn high definition Blu-ray movies as well, OWC's Mercury Pro 8X Blu-ray Pioneer BDR-203 External drive is worth a look. Its case design doesn't get in the way, or otherwise deface your desktop, and it turned in respectable speed test results. We did have trouble using the USB connection for burning a dual-layer DVD in Toast, but with three other connection options available, many Mac users can overlook that bug. If you do require USB and Toast, and don't mind a clunky case design, you might consider the Buffalo MediaStation 8X Blu-ray Drive ( ).
Timed Trials
| Interface | Burn and Verify DVD-R at Max Speed in Finder | Copy Data from DVD-R to Desktop | Burn DVD+R DL at Max Speed Toast | Burn BD-R at Max Speed Compressor | Copy 8GB from BD-R |
| --- | --- | --- | --- | --- | --- |
| eSATA | 15:46 | 6:21 | 15:50 | 14:59 | 11:29 |
| USB 2.0 | 14:55 | 6:14 | NA | 15:16 | 10:01 |
| FireWire 800 | 14:35 | 5:47 | 16:11 | 14:32 | 8:49 |
| FireWire 400 | 14:48 | 6:06 | 16:06 | 15:05 | 10:18 |
Scale = minutes:seconds
Specifications
| | |
| --- | --- |
| Mechanism | Pioneer BDR-203 |
| Connections | eSATA, USB 2.0, FireWire 800, FireWire 400 |
| Write Speeds | BD-R: 8X; BD-R (DL): 8X; BD-RE: 2X; BD-RE (DL): 2X; DVD-R: 16X max; DVD-R (DL): 8X max; DVD-RW: 6X max; DVD+R: 16X max; DVD+R (DL): 8X max; DVD+RW: 6X max; DVD-RAM: 5X; CD-R: 32X max; CD-RW: 24X max |
| Included Software | None; Toast Titanium 10 is an $80 option. |
[James Galbraith is Macworld's lab director.]