Adobe Systems has announced Adobe Flash Platform Services, a new online service that lets content providers promote and measure the effectiveness of their Web applications across social networks, desktops, and mobile devices. The new service, one in a series that Adobe intends to roll out over time, was announced at the IAB (Interactive Advertising Bureau) MIXX Conference and Expo in New York.
Adobe Flash Platform Services are hosted services that let developers add capabilities to their Web applications to make them more predictable and cost efficient. "When people build content using Flash technologies, they have to distribute it, and it's common to try and share it through social media. So we're making that process of connecting Web applications to social media more sharable and collaborative," said Puneet Goel, product marketing manager for Adobe Flash Platform Services.
With the growth of social media such as Facebook, MySpace, Twitter, and others, advertisers and publishers seek more predictable and effective methods to reach audiences. Not only is it a challenge to get users to install applications, the distribution methods that advertisers, publishers, and game developers use may not support all popular destinations and can be difficult to maintain. Overall unified distribution across the Web and mobile platforms is rare, and that makes it hard to analyze the effectiveness of these apps, Adobe says.
To address such analytical issues, Adobe has teamed up with Gigya Inc., a social media authentication and distribution platform, to give content providers a unified management and distribution tool that can work in several ways: viral distribution by making applications sharable; mobile applications distribution; installs through paid promotion; measuring success and optimizing applications through tracking; and generating revenue via cross promotion.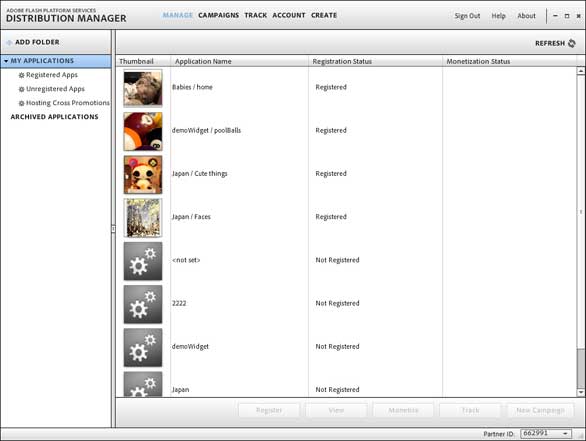 Adobe Flash Platform Services are managed, hosted and maintained by Adobe and partners, with enhanced capabilities on a pay-per-use basis.
Later this year, Adobe will launch the Social service, which will streamline the process of letting developers connect Flash applications with a variety of social networks. Developers will only need to write an application once to provide users the choice of which social network to access through the application. The Social service will also monitor each social network site to ensure application integrity.
More information on Adobe Flash Platform Services is available on the company's Web site.