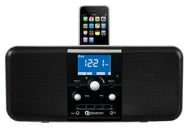 Boston Acoustics has announced the Duo-i Plus AM/FM Stereo Radio with iPhone/iPod Dock, an updated version of the company's Duo-i iPod clock radio.
The original Duo-i was one of Macworld's favorite iPod accessories of 2008. The Duo-i Plus includes all the features of the original Duo-i—including dual alarms, a touch-sensitive, wraparound snooze bar, an AM/FM radio, an ambient-light-sensing display, video output, and customizable speaker grilles—but adds Works With iPhone certification and a new glossy finish in white or black.
The Duo-i Plus will be available in October at a suggested price of $250.