Fans of fighting games, your wait is over. You can finally see how your friends' swordsmanship matches up against your trusty battleaxe. Thanks to Blades of Fury, a new multiplayer fighting game for the iPhone and iPod touch developed by Gameloft, you can unleash devastating melee attacks, bone-crunching throws, and awe-inspiring magic, all from the comfort of your mobile device.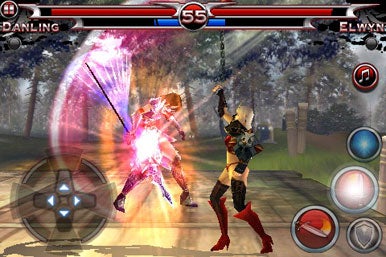 Fighting games presumably would be fairly easy to translate to the mobile platform, especially since their simple "joystick plus buttons" interface is easily replicated on the iPhone's touchscreen. And yet, of the thousands of iPhone games that have been released this past year, very few have been quality fighting games. Blades of Fury changes all that by offering superior 3-D graphics, an intuitive combat system, and crucial multiplayer capabilities.
The control system is familiar, relying simple button commands to block, hack, and slash while you control movement with a joystick or d-pad rendered on the iPhone's touchscreen surface.
There are also many other familiar elements fighting fans may recognize. Imitation is the ultimate form of flattery, and Gameloft does many high-end console games a great compliment by developing iPhone games inspired by popular console titles. Gameloft's Hero of Sparta borrows from God of War, Modern Combat: Sandstorm draws heavily from Call of Duty 4: Modern Combat, and Blades of Fury is a simplified, remixed version of the Soul Calibur series.
The plot is about evil weaponry, soul stealing, and various well-costumed heroes (and barely costumed heroines) from across the globe wandering in search a mysterious artifact in the medieval era of history. The less said Blades of Fury's plot, dialogue, and character development, the better. It's a fighting game; if Gameloft was going to cut corners in any department I'm glad it's the writing and the (abysmal) voice acting departments.
Instead, Gameloft gets the areas that should matter in a fighting game right—the controls, combat, and graphics are all top notch. Your character has a full range of movement and can move forward, back, sidestep, roll, jump, and so forth. Your character can also attack horizontally or vertically, perform throws, block, counter, and use special magical attacks.
While the ability to jump and attack high and low can be a bit clunky, the magical attacks provide some great fireworks to the game. Each character can utilize magic attacks in combination with other attacks or hold down the button and power them up to even more damaging attacks. There's nothing more satisfying than saving your magic till you can power up to a Level 3 attack and then use it to finish off your enemy in a highly-stylized KO.
The characters aren't just unoriginal, but are so imitative of stock characters as to border on parody. You've got a religious knight named "Arthur," a scantily clad elf, a freaky clown-like guy with claws, and your standard pure-as-the-untouched-snow young Chinese girl. I'm disappointed by the lack of a deeply troubled pretty boy with an oversized sword, but there's always a chance for a sequel.
There are several modes to enjoy, including arcade, story, survival, practice, and multiplayer. Playing through several of the modes will allow you to unlock achievements such as additional costumes and characters.
The multiplayer function is perhaps the biggest selling point of the game. Wi-Fi/ Bluetooth connectivity allows for you to battle foes online. Unfortunately, I couldn't find anyone in the game's battle lobby using Bluetooth, and there was no one on my office network to play. So while the game boasts of multiplayer capabilities, as of press time, I have yet to actually experience a multiplayer game.
Dedicated fighting fans will recognize the debt that Blades of Fury owes to some classic console fighting games, but Blades of Fury deserves praise on its own accord. The ability to play your friends online, well, I'd like to see the original Soul Calibur or Street Fighter II do that. Comparisons aside, Blades of Fury offers intuitive combat, explosive action, and the graphics are some of the best we've seen on the iPhone. Gameloft has created a surprisingly addictive, versatile, and gorgeous looking title here that will only get better with time.
Blades of Fury is compatible with any iPhone or iPod touch running the iPhone 2.2.1 software update.
[Chris Holt is an assistant editor at Macworld.]