The appeal of vintage toy cameras was that you never quite knew the result you would get until the photo was developed. Takayuki Fukatsu's ToyCamera app brings this old-style fun to your iPhone.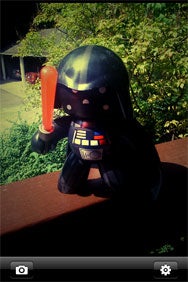 The charm of an app like this is its simplicity. When you launch ToyCamera, the interface looks almost exactly like the native camera, except after you take a photo, you have the extra surprise of seeing what the result looks like.
ToyCamera contains eight photo filters (Vintage Green, Sepia, Low Contrast and more). By default, the app is set to apply one of these photos randomly to the photo after it's been captured. You can set it so that the app only applies a specific filter, but that defeats the purpose—and the fun. ToyCamera's appeal lies in its randomness. Plenty of other photo apps allow you to apply very specific effects, but that is not what ToyCamera aims to do.
After you take the photo, you can see a preview image. If you like it, you can apply the effect to your image, which is then immediately added to your photoroll.
Unlike many other iPhone photo apps, ToyCamera does not give you the option of selecting an existing photo from your image library. Your only option is to take a new photo within the app. This seems like a very intentional choice by Takayuki Fukatsu. Toy Camera is not designed to add effects to existing photos; it wants you to launch the app, snap a shot, and have fun with the result.
ToyCamera won't replace many of the other apps you use to tweak your iPhone photos, but it's not trying to. If adding a different and vintage look to your photos sounds exciting to you, give it a shot—you never know what you'll get.
ToyCamera is compatible with any iPhone running the iPhone 3.0 software update.
[Macworld contributor Beau Colburn lives in Boston where writes, roots for the Red Sox, and takes as many photos as possible.]