If you're a designer whose inspiration strikes while you're on the go, Pantone has a new iPhone app for you: myPantone. The app gives graphic, multimedia, fashion, interior, and industrial designers the tools to capture, create, and share Pantone color palettes while they're riding the bus to work, waiting on line at the supermarket checkout, or anywhere they happen to be.
"MyPantone gives designers the freedom to access Pantone colors anywhere, without the need to be in their office or carry around cumbersome guides," said Andy Hatkoff, vice president of technology licensing for Pantone. "Now with myPantone's Portable Color Memory in their pocket, designers no longer need to agonize trying to recall an exact color."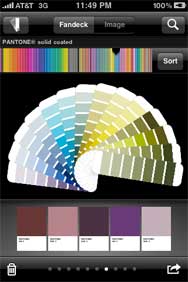 MyPantone gives designers access to all the Pantone color libraries, including the Pantone Matching System for coated, uncoated, and matte stock; the Pantone Goe System for coated and uncoated stock; Pantone Pastels for coated and uncoated stock; and the Pantone Fashion + Home Smart Color system. The app provides the sRGB, HTML, and LAB values on each color swatch, and its cross referencing system lets users identify colors across color libraries.
In addition, myPantone facilitates creation of harmonious color palettes by finding complementary, analogous, and triadic combinations for selected colors. And, the app can extract colors from any image stored in your iPhone's camera roll or let you choose individual colors from an iPhone photo and match them to specific Pantone colors. Once you create a color palette, you can view or share it with others. For viewing color chips, you can use Pantone's slate of built-in backgrounds or you can use one of your own photos as a background. Sharing options include sending color palettes via e-mail, sending palettes to other iPhone users, and sharing via Facebook or Twitter. You can attach text notes or voice annotations, as well. You can e-mail palettes as color patches, or as application swatch files for use in Adobe Creative Suite, CorelDraw, and QuarkXPress. Designers can also share their color palettes with other designers by sending them to Pantone's hosted Web site.
MyPantone is available for $10 at the iPhone App Store. It is compatible with iPhone OS 3.0 or higher and can also be used with the iPod Touch.