Reader Frank Wu is interested in expanding the contents of Address Book. He writes:
If I get an e-mail message with lots of recipients, is it possible to add all of them to Address Book at once?
Not with the tools included with Mail. However, a solution is just a download away. That download is Andreas Amann's donation-please Mail Scripts 2.9.1. As its name hints, this is a collection of AppleScripts that perform wondrous feats with Apple's Mail and Address Book applications.
The specific script you're looking for is aptly named Add Addresses. Run it and you'll be offered the option to add to Address Book any and all of the addresses found in the From, To, Cc, and Reply-To fields of selected messages.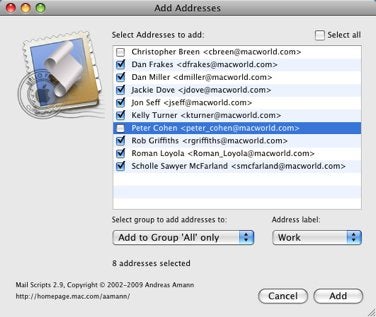 While we're on the subject, allow me to point out that this tool illustrates why it's a very poor idea to create messages with loads of recipients in the To and Cc fields. Do so, and someone receiving your message could easily use a tool such as this to harvest those addresses and use them for evil purposes. Far better to add addresses to the Bcc field, where no one but you can see them, and fill the To field with your own address.
For more on this and other niceties of e-mail, see my E-mail Etiquette from earlier this year.