At a Glance
Expert's Rating
Pros
Versatile
Fast read/write times
Light
Cons
Indistinct design
Slow at more complex tasks
Our Verdict
Though other hard drive companies have built extensive and frequently updated product lines, Verbatim quietly has entered the fray and proved it can compete with the big boys. We reviewed Verbatim's Professional Quad-Interface Desktop Hard Drive ( ) nd found that though it offered unexceptional features it nonetheless provided quality speed. Similarly, Verbatim's SureFire FireWire 800/USB is an unassuming but speedy drive that serves as the company's entry to the burgeoning portable hard drive market. We tested the 500GB model and came away generally impressed.
The black aluminum, 5400-rotations-per-minute SureFire produced some strong times in our Speedmark tests. Its three-year limited warranty, formatting for Mac, and versatile interface makes it an attractive and inexpensive option for users looking for a portable hard drive.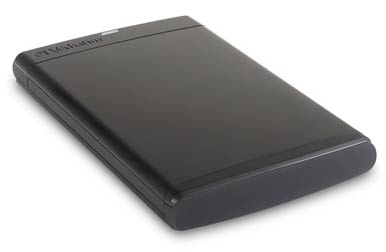 The SureFire has a simple finger-print-resistant black exterior. Its dimensions are slightly wider and taller than an iPhone, so it can fit into your pants pocket or backpack. The SureFire also weighs less than half a pound, making it one of the lighter portable hard drives we've reviewed. Due to its light weight, the SureFire feels fragile but drop tests confirm it can handle normal wear-and-tear. I put the drive through my "Monday morning stress test" by throwing it around my cubicle for a few minutes and then dropping it from eye level. The hard drive started up as normal and looked no worse for the wear.
You'll know when the SureFire is starting up because you can hear a faint hum or see the small blue LED light that denotes activity. The SureFire isn't the quietest drive out there, but the fanless drive never achieved particularly loud levels of activity nor did it ever feel warm to the touch.
The SureFire is technically a dual-interface drive, offering only FireWire 800 and USB 2.0 connection ports. However, the drive comes with several cables, including a FireWire 400 to 800 cord, allowing you to connect to a FireWire 400 port on your computer. The SureFire also comes with a USB power cord that enables the drive to draw additional power from the host computer; this cord is essential to users with older model laptops that don't provide enough power via USB to power up the SureFire.
The SureFire comes pre-formatted for the Mac, so all of our tests are times I recorded without having to reformat the hard drive to Mac OS Journaled. Since the drive is already formatted for the Mac, it's also Time Machine ready right out of the box–a nice distinction compared to many competing hard drives.
While the SureFire lacks any additional prepackaged software, the unit comes with a three-year limited warranty and a protective carrying case. Though it didn't factor into our ratings at all, the carrying case isn't bad on the eyes and adds some protective cushioning to the drive.
Timed trials
| | |
| --- | --- |
| Copy 1GB file to USB 2.0 | 0:51 |
| Copy 1GB file to FireWire 400 | 0:46 |
| Copy 1GB file to FireWire 800 | 0:34 |
| Duplicate 1GB file via USB 2.0 | 1:24 |
| Duplicate 1GB file via FireWire 400 | 1:16 |
| Duplicate 1GB file via FireWire 800 | 0:45 |
| Low-memory Photoshop: USB 2.0 | 1:44 |
| Low-memory Photoshop: FireWire 400 | 1:44 |
| Low-memory Photoshop: FireWire 800 | 1:36 |
Scale = Minutes: Seconds
In our time trial tests, the SureFire performed admirably, regularly besting some of its stiffest competition in both writing and reading tests. The SureFire finished the 1GB copy test in 34 seconds while using its FireWire 800 connection type. That's one of the best times we've seen for a non-SSD hard drive, particularly a portable drive. The SureFire finished its 1GB copy test with a FireWire 400 connection in 46 seconds and with its USB connection in 51 seconds. In comparison, these times were full 2 seconds better than the recently reviewed Iomega's eGo Mac Edition ( ), another 5400 rpm portable hard drive.
The duplication tests were equally impressive. The SureFire finished the 1GB duplication test in 45 seconds with its FireWire 800 connection, and this beat the eGo's duplication time by a staggering 12 seconds.
But the SureFire struggled with our regime of low-memory Photoshop tests. The eGo finished the regime of tests in 1 minute, 29 seconds, a full 7 seconds ahead of the SureFire. The SureFire's times with USB and FireWire 400 were 5 to 9 seconds off the eGo's times. Thus, while the SureFire has good read and write speeds, the more complex tasks required by the low-memory Photoshop tests taxed the hard drive more.
The list price for the SureFire is $180, but you can find it for $150, which makes the price per gigabyte $.30, in line with other portable hard drives of similar capacities. The 500GB eGo Mac Edition was originally released with a similar price.
Specifications
| | |
| --- | --- |
| Price per gigabyte | $.30 |
| Connectors | USB 2.0 (1), FireWire 800 (1) |
| Rotational speed | 5400 rpm |
| Other capacities | 250GB, 320GB |
Macworld's buying advice
The over-saturated portable hard drive market is drowning in similarly priced, similarly-designed, similarly-reliable units. Verbatim's SureFire FireWire 800/USB might get lost in the shuffle, but its strong warranty, speed scores, interface versatility, and portability mean that it is just as deserving of your attention as drives by Western Digital or Iomega.
[Chris Holt is an assistant editor for Macworld.]