Here's a concept that business people, journalists, busy bodies and paranoids are certain to find appealing: An application for the iPhone and iPod touch that lets you explore the backgrounds of the people in your contact list. Razix Software's Contact Spy poses the question "How well do you really know who is in your contacts list?"
The answer is, no better or worse than I did after using this buggy app.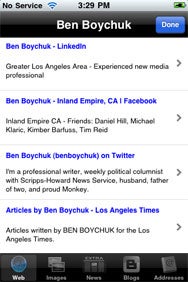 Contact Spy has a very simple interface. When you launch the app, you see fields for the first and last name of a contact, along with a Select Contact button. You can enter the first or last name of a person whether he or she's in your contacts or not. Tapping the Select button opens your handheld's contact list. Tap a name on the list and you will return to the app's front page, where the first and last name fields should now contain your contact. Tap the Spy button and the app will return results from a Web search—Google, apparently—for you to browse. Buttons at the bottom of the screen allow you to see images of your contact, as well as any references in the news or on blogs, and any addresses that may appear in public Web searches.
In theory, Contact Spy will let you add information—including Web pages and photos—to your contact files. In practice, this happens only some of the time.
One of the most obvious problems with Contact Spy is the depth and quality of the data. Results will vary, of course. As the developers note, common names may not yield relevant results. But you might have a remedy with a general search engine such as Google or Bing, and you would certainly be able to refine your search with other people-searching Web sites. Not so with Contact Spy. About the only thing you can do is change the spelling of the first or last name of the person you're searching (e.g., "Ben" or "Benjamin"). The app might be more helpful if it made use of the iPhone's GPS or the iPod touch's geolocation features.
Another problem: The image search in Contact Spy is buggy and broken. I tried dozens of image searches on multiple contacts. The app crashed each and every time.
The latest version of the app features a reverse phone number look-up function. So if, for example, you receive a call from an unrecognized number, you can add the number to your contacts and then use the app as a way to find the name and address of the mystery caller. You can then add the information to your contact list so it appears the next time you receive a call.
Assuming the data is accurate, that is. I entered my home phone number and got the wrong address. (This isn't the first time this exact mistake has popped up on an iPhone app, however.) I also entered the business phone number of a former employer. This time I got the right address—along with about two-dozen names of people who never worked at the place. Oddly, the name of the business never popped up.
Because Contact Spy is essentially a dolled-up search engine app, you need some kind of Internet connection —3G, EDGE, or Wi-Fi—to use it.
It isn't difficult to imagine how a few improvements, especially a feature that would let users narrow searches by location, would make Contact Spy a fine utility. As it is now, however, it's too hit-and-miss to provide consistently useful intelligence.
Contact Spy is compatible with any iPhone or iPod touch running the iPhone 2.2 software update.
[Ben Boychuk is a columnist and freelance writer in Rialto, Calif. Feel free to e-mail him.]
Note: When you purchase something after clicking links in our articles, we may earn a small commission. Read our affiliate link policy for more details.