Editor's Note: The following article is an excerpt from Take Control of Your 802.11n AirPort Network, a $15 electronic book available for download from TidBITS Publishing. The 265-page ebook teaches you everything you need to know about setting up the 802.11n AirPort Express, AirPort Extreme, and Time Capsule, with Leopard or Snow Leopard. Find help with maximizing performance, extending range, complex Internet configs, streaming music, adding old gear, and sharing USB disks and printers.
Need to test the connection between your base station and your computer from the computer side? You can use Mac OS X's built-in but rough signal strength information in the AirPort menu, or you can use Alf Watt's iStumbler (donation requested), which works only in the 2.4 GHz band at present. You can also bring out the big guns and use a spectrum analyzer to troubleshoot why a network just won't work in a given channel or area.
Use the AirPort menu
The AirPort menu in the menu bar offers connection information, and Snow Leopard's AirPort menu is more helpful than Leopard's. Hold down the Option key and select the menu, then hover over any network to get answers to several key questions:
What standard is my connection using? The PHY Mode shows the actual standard being used, which should be 802.11n if your base station is configured correctly (new in Snow Leopard).
How well can my computer receive the base station's signal? The RSSI (Received Signal Strength Indication) measures in decibels how well a signal is being received. A higher number (closer to zero) means a stronger signal. New in Snow Leopard, you also can see a visual indication of signal strength by observing the number of black waves in the symbol at the far right of each network's name.
How fast is my network running? For a network that you're currently connected to, you'll see the transmit rate, which indicates how "fast" the network is operating. Apple's 802.11n can operate at a raw rate of up to 270 Mbps (in 5 GHz) or 130 Mbps (in 2.4 GHz); in Figure 35, the rate is just 130 Mbps using 2.4 GHz channel 6. That can change constantly, as the adapter and base station negotiate for faster or slower connections as problems are encountered.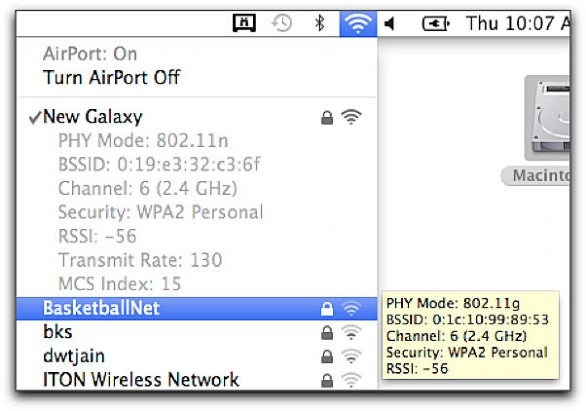 Monitor 2.4 GHz with iStumbler
iStumbler provides a continuous scan with information about signal and noise for all the 2.4 GHz networks in your vicinity.
Tip: iStumbler can't scan for 5 GHz network channels, unfortunately, but in that band you're less likely to find other users and thus interference. The developer, who works for Apple but has independently released this free tool, said via email that he plans an update at some point to support modern Mac adapters.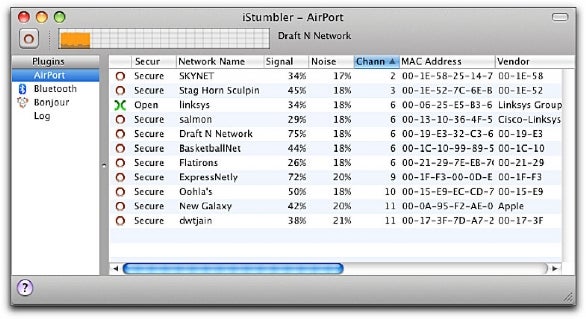 Run a Spectrum Analyzer
If you're truly frustrated with finding a good connection, you could buy a spectrum analyzer, an expensive piece of software. These analyzers might be a great group purchase among friends and colleagues who frequently set up and troubleshoot Wi-Fi networks.
A spectrum analyzer constantly measures the strength of signals in hunks of frequency, and it produces output that software can read. The more energy or more spikes in a given channel, the more likely that Wi-Fi won't work there.
The $99 Wi-Spy 2.4i and $199 Wi-Spy 2.4x from MetaGeek)analyze the 2.4 GHz band and provide a live analysis of the signals passing in the air around you. MetaGeek's 2.4/5 GHz analyzer, the Wi-Spy DBx costs a whopping $599, but pulls a lot of interesting data out of bands that are hard to examine.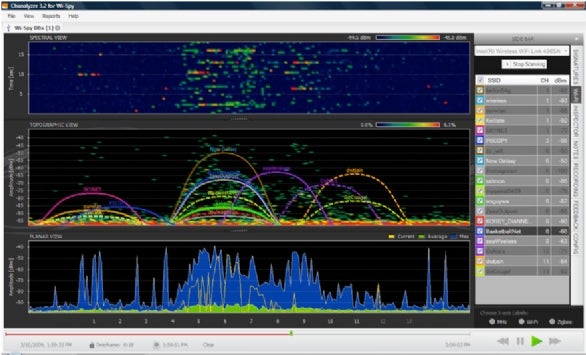 Glenn Fleishman is editor of Wi-Fi Networking News, a contributing editor for TidBITS, the Practical Mac columnist for The Seattle Times, and a regular contributor to The Economist, Macworld, Popular Science, and The New York Times. He's the author or co-author of several books, the latest of which is Take Control of Your 802.11n AirPort Network (TidBITS Publishing Inc., 2009).