At a Glance
Expert's Rating
Pros
Attractive case design
Ships with Toast Titanium 9
Cons
Expensive
Problem burning discs with Toast over USB 2.0
Our Verdict
Lacie's d2 Blu-ray Professional BD-R, BD-RE Drive is an external optical drive that can burn data to Blu-ray discs, as well as single and dual-layer DVD and CD media. The drive connects to your Mac via FireWire 400 or USB 2.0, though we had some trouble using the USB 2.0 connection with the included Toast Titanium 9 software. (We also had issues with Toast Titanium 10.) The FireWire connection gave us no trouble.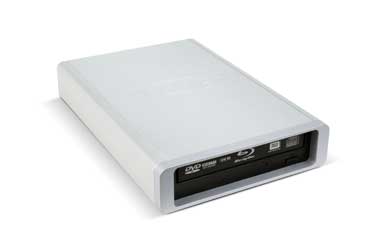 Using the company's stackable d2 case design, this external Blu-ray drive uses Pioneer's BDR-203 mechanism and requires external power to operate. The drive can burn 25GB single-layer Blu-ray (BD-R) discs as well as 50GB BD-R DL discs at speeds up to 8X. Burning data to Blu-ray discs is supported by OS X's disc burner utility, or through a third-party application like Roxio Toast. You can burn high definition Blu-ray discs to watch on your home theatre component Blu-ray players by using the latest version of Apple's Compressor ( ), part of the Final Cut Studio, or with Toast Titanium after downloading and installing Roxio's $20 High Def/Blu-ray authoring plug-in. And while there is some Windows software that allows you to watch Blu-ray movies on your PC, these high definition discs are not viewable on your Mac. Aside from Blu-ray media, the drive can burn all flavors of DVD, +/-, RW, DL, as well as CDs and CD-R discs.
In our timed tests, the d2 Blu-ray Drive was a decent but comparatively slow performer, posting third-place finishes when compared to the results of four other recently tested external Blu-ray burners. LaCie isn't the only company whose drives failed to complete burns with Toast over USB; other drives using the Pioneer BD-203 mechanism had problems as well. Hopefully, the problem will get resolved soon. But until then, FireWire 400 worked just fine with Toast and USB worked just fine with OS X's built-in disc burning utility and Compressor.
Macworld's buying advice
If you're looking to add an external optical drive to your Mac, the LaCie d2 Blu-ray Professional BD-R, BD-RE Drive is worth considering, especially if you have other LaCie d2 drives on your desktop. It's an average performer and worked flawlessly with FireWire 400. If your Mac doesn't have FireWire, and you want to use Toast, then you'll either want to look at another drive, like the Buffalo MediaStation ( ) or check with LaCie to see if that bug has been addressed.
Timed Trials
| Interface | Burn and Verify DVD-R at Max Speed in Finder | Copy Data from DVD-R to Desktop | Burn DVD+R DL at Max Speed Toast | Burn BD-R at Max Speed Compressor | Copy 8GB from BD-R |
| --- | --- | --- | --- | --- | --- |
| USB 2.0 | 12:35 | 5:41 | NA | 14:43 | 10:03 |
| FireWire 400 | 12:23 | 5:45 | 16:15 | 14:33 | 10:18 |
Scale = minutes:seconds
Specifications
| | |
| --- | --- |
| Mechanism | Pioneer BDR-203 |
| Connections | USB 2.0, FireWire 400 |
| Write Speeds | BD-R: 8X; BD-R (DL): 8X; BD-RE: 2X; BD-RE (DL): 2X; DVD-R: 16X max; DVD-R (DL): 8X max; DVD-RW: 6X max; DVD+R: 16X max; DVD+R (DL): 8X max; DVD+RW: 6X max; CD-R: 48X max; CD-RW: 24X max |
| Included Software | Easy Media Creator 10; Toast 9 Titanium |
[James Galbraith is Macworld's lab director.]