Aspiring filmmakers—or Hollywood directors and cinematographers who want to go mobile—have precious few offerings to choose from at the App Store. There's no true movie editing app yet and no dedicated scriptwriting tools. But with Cinemek's Hitchcock app, there is now a way to flesh out ideas.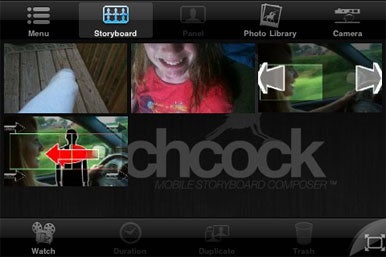 The basic idea behind storyboarding is that you plan what happens in each scene, making it easier to pull off your video shoot. For example, you might decide to shoot on location in Pittsburgh and need to know who is in a scene, what they will say, where they will move, and how the scene will be resolved. With the $20 Hitchcock, you have the core tools you need.
The app allows you to add a photo still, annotate it with text, and then play the "movie" so you can see how the scene will look. The tools might seem a little foreign if you have not used a storyboarding app: you can "dolly in" or "dolly out" by placing a rectangle on a photo, showing how the camera will zoom. You can also show how the camera will pan across the scene. Then, for each scene, you can add text—including notes about what will happen or dialogue cues, and add an audio clip, such as instructions for filming or actual dialogue clips. There's also a way to add actor overlays (male or female) to a scene and add movement indicators.
As you might expect, you can add photos from the your camera roll or snap new photos with the iPhone's camera, adding them directly to the storyboard.
When your storyboard is complete, you can play the entire movie storyboard—one scene after another. It's easy to adjust scenes, and you can duplicate or remove scenes easily. Hitchcock lets you save storyboards and load them, but you can also export a storyboard as a PDF file, which is then loaded automatically to the Cinemek site. After sending a PDF, you are prompted to send an e-mail that the storyboard is now online.
The core storyboarding tools are all here, and Hitchcock is easy to use. The app uses a black interface design scheme that makes your still images pop nicely on the screen.
That said, Hitchcock is quite rudimentary—a benefit if you don't like extra features that get in the way of creativity. The app lacks the ability to export a storyboard as a movie file, or to add movie clips to a storyboard, which would be helpful for planning out raw footage.
You can accomplish a great deal with Hitchcock, and create an entire storyboard for a movie or TV show. It's so powerful, in fact it's important to point out what the mobile app cannot do compared to a desktop offering. Hitchcock is a far cry from a desktop storyboarding app like Toon Boom Storyboard, which supports complex camera movements, drawing objects on the screen, revision tracking, and settings for standard aspect ratio or widescreen.
Hitchcock serves a vital purpose for those working on a movie, although it has a negligible value for anyone else. It's not exactly a full-blown mobile storyboarding app, but that's not really the goal anyway—filmmakers likely want to just set up the basic mechanics of a scene and where actors will stand. You can snap a photo of scenes and link them into a quick storyboard, then share the results online. As an app that inspires creativity, Hitchcock is exceptional.
Hitchcock is compatible with any iPhone or iPod touch running the iPhone 3.0 software update.
[John Brandon is a 20-year veteran Mac user who used to run an all-Mac graphics department.]