Imagine this scene: a busy, bustling video production studio with editors scrambling to edit their masterpieces. You probably imagine them on hulkingly large workstations and giant monitors, right? Now picture this: they're all sitting on comfortable couches–but just as busy–editing on iPads.
Final Cut Pro for iPad brings a new tool into the mix for both amateur and professional creators alike. While the above scenario may not seem realistic yet for those in the industry, there are various ways that the iPad can enhance and improve the production process. And Final Cut Pro is a huge step toward turning the iPad into an actual computer.
Can the iPad Final Cut Pro really be a replacement for the Mac version? Or is it merely a superhero sidekick? Let's look at how Final Cut Pro for iPad can be an asset to creators in important production situations. It takes a proper hardware setup to make this possible.
Apple Final Cut Pro for iPad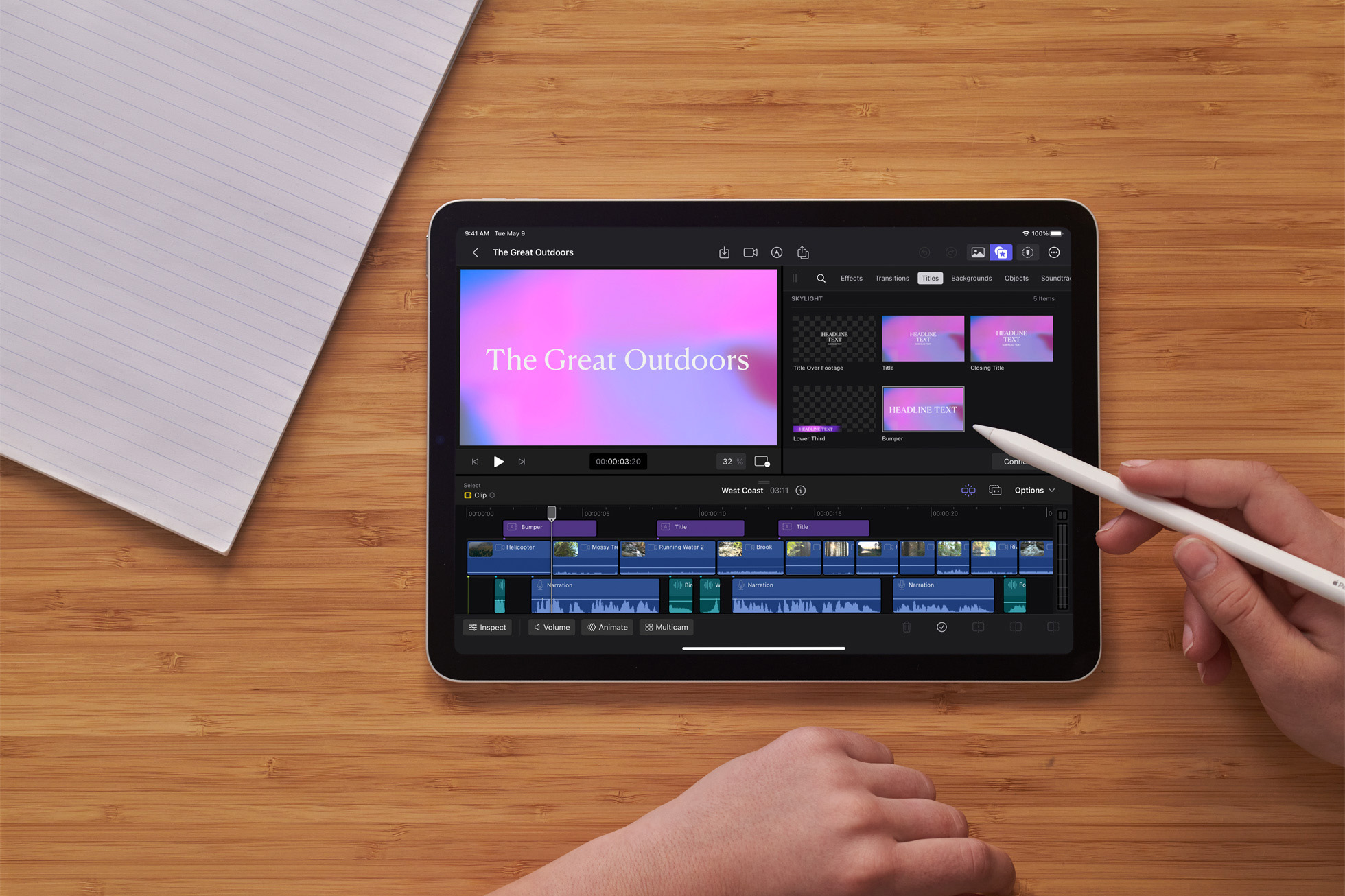 Price When Reviewed:
$4.99 a month, $49.99 per year. One month free trial.
Apple silicon makes it all possible
Big, powerful workstations are what most creators are accustomed to using to edit, color grade, and export footage. These workstations, like the Mac Studio or Mac Pro, cost several thousand dollars. But Apple silicon has changed how creators consider the hardware needed, saving some money in the process. With its impressive efficiency and nearly magical performance, many find that using just a MacBook Pro with Apple silicon (or even the MacBook Air) has enough processing power.
There wasn't much expectation about a tablet doing heavy-lifting work–the resource-hungry software mainly stayed on laptops and desktops. When the iPad Pro received the fast M1 chip, what was missing was the software to take advantage of its performance. If an Apple silicon Mac can run those apps, why not an M1 tablet? This opened the way for Final Cut Pro and Logic Pro to make their way on the iPad. The question then becomes one of usability and practicality and not performance.
The caveat is that Final Cut Pro needs at least an M1 iPad Pro to work. Older iPads with A-series chips are not compatible, but even with that requirement, editing with Final Cut Pro is more accessible than ever across more devices.
Final Cut Pro on iPad or Mac: Basic differences
Let's dive into real-world scenarios and how to take advantage of the Final Cut Pro for iPad and where it is lacking compared to the Mac version. It has a similar visual interface with a magnetic timeline, which will feel familiar. However, there are some deeper differences to be aware of.
Here are some basic differences that may keep you from wanting to replace your Mac's Final Cut Pro. Or you may be enticed to use both.
Price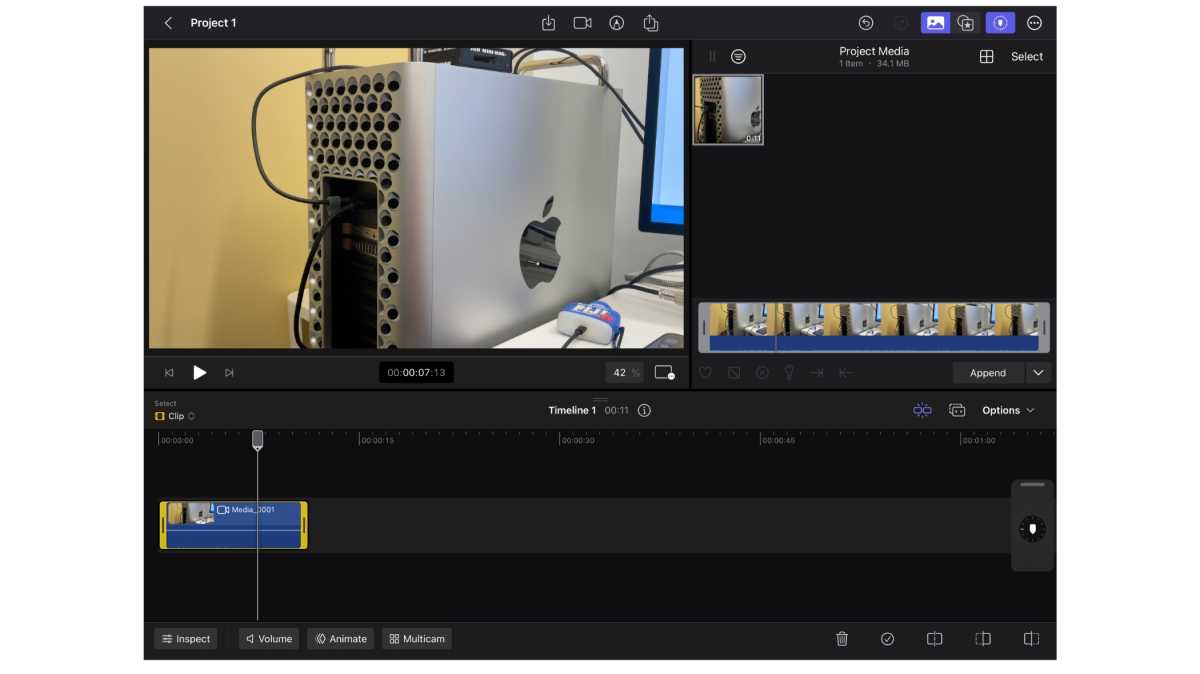 Thiago Trevisan
This is the first notable difference. The Mac version is a flat, one-time fee of $299 ($199 for students). The iPad version is available as a $4.99 monthly subscription or $49 annual cost.
Now that software subscriptions are more common than one-time fees, the mountain of subscription services a user builds can be wearying, but it is a cheaper up-front cost. This makes the most sense for amateurs or the occasional use. Most pro users would likely prefer to pay for the software once, instead of being tied to a subscription.
With hardware, the cost argument goes either way. While the iPad Pro is cheaper than traditional workstations, there are a myriad of affordable Mac options (such as the Mac mini) that can handle similar workloads.
Final Cut Pro
Price When Reviewed:
$299.99, free upgrade for current users.
Mobility
The iPad version of Final Cut Pro, according to Apple's own marketing, is geared towards "Creators on the Go." That can be interpreted to address those who use the iPad itself to record footage. While the distinction between "pro" and "consumer" is a blurred line, social media content has made it possible to make these workflows very realistic.
Apple even offers a camera mode within Final Cut Pro for iPad, where you can directly record footage from within the app. It also gives you more manual adjustments, such as exposure and frame rates. This certainly speeds up the workflow considerably since you're not importing footage from a camera, skipping the middleman entirely.
Entire movies have been made on the iPhone, but the iPad is certainly not the first tool most creators would spring for, mainly due to its larger size. Even so, an "all-in-one" ecosystem of shoot, edit, and export is possible with an iPad. (Or record on the more portable iPhone, and easily transfer over to edit on the larger iPad Pro)
While laptops are highly portable, the iPad takes it one step further: it's even easier to carry around and has touch input. Also, the iPad affords us a certain comfort level–you can sit back, lay down, or even sit on your side. This just adds more flexibility to a creator's environment, be it on a desk chair or a bus seat. A desktop Mac (or even a MacBook) can often tie a user to a more fixed position due to its ergonomics.
The touch screen on the iPad Pro is impressive, and it certainly can augment the editing experience in a unique way. With a swipe of your finger, you can quickly edit after accustoming yourself to the movements. The Jog Wheel helps to add more accuracy to movements and editing, which can sometimes feel sloppy with touch. After using the Jog Wheel for a few weeks, I found it intuitive and tons of fun–I even missed it on the Mac at times.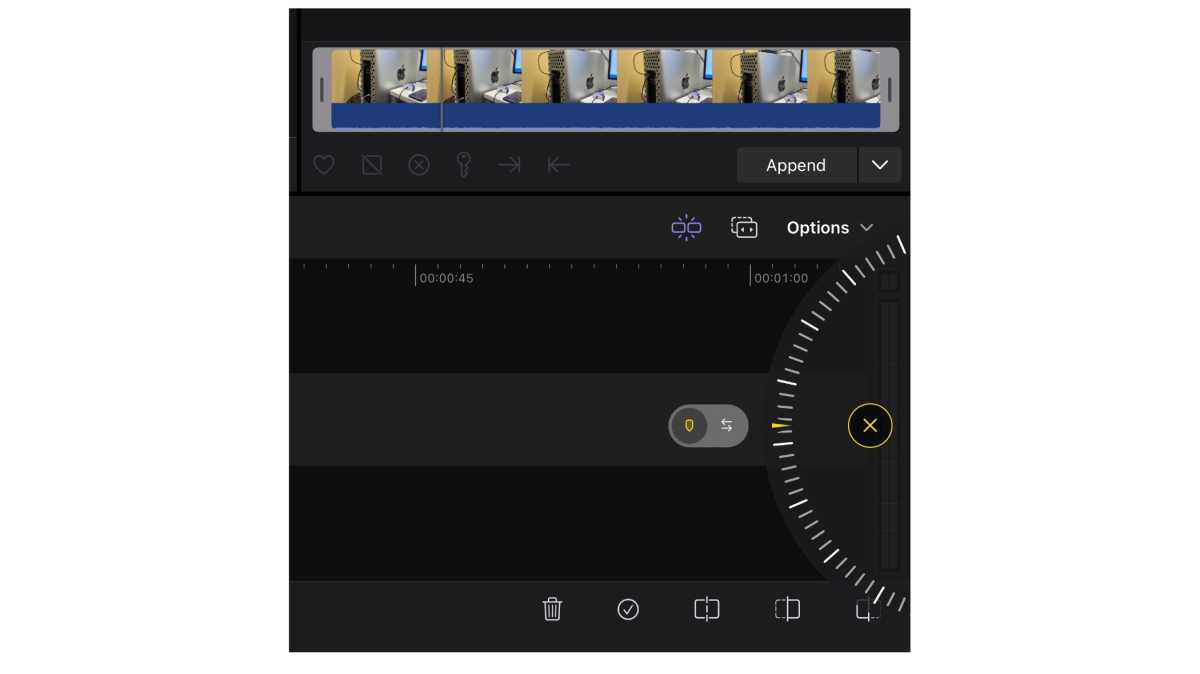 Thiago Trevisan
Touch interface
The Apple Pencil can also be useful, though, for precise movements, it's clunky compared to a mouse. For certain edits and adjustments, the Apple Pencil can be the best tool for the job. You also have the ability to draw on your project and animate it. Apple calls this "Live drawing," which can be done with either touch or the Apple Pencil.
You can also connect a keyboard to iPad Pro, but then you are close to laptop territory. Still, there are things you can do on iPad Pro which aren't as easy on a laptop; pinch to zoom and fast finger swipes are more intuitive on a touch screen versus a touchpad.
A touch interface does have drawbacks. When moving certain objects on the screen or even basic file movements, mouse input is preferable. If you don't have a physical keyboard connected, typing can be a chore with the on-screen keyboard.
In general, when making a video, it's easy to sit back and do the initial rough edit on the iPad Pro– obvious edits, cut out silences, and organize the project. Then it can easily be popped into Final Cut Pro for Mac for doing fine edits and finish the project.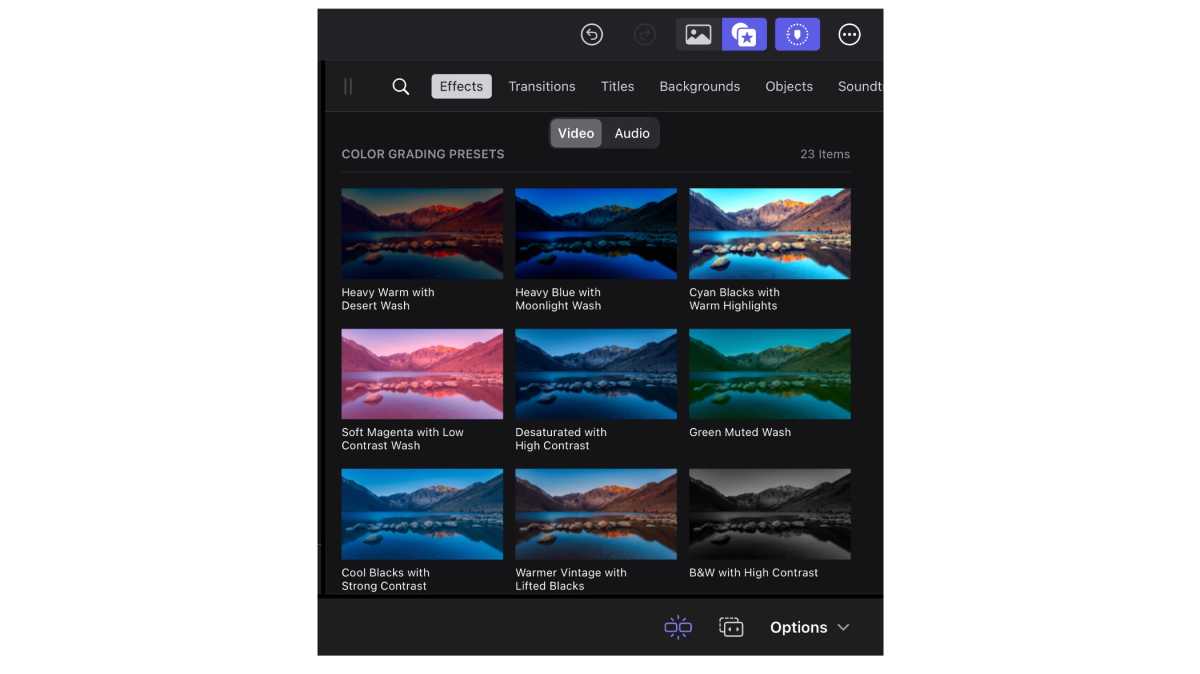 Apple
Color grading
Final Cut Pro for iPad is limited in features compared to the Mac version. Tools such as color grading offer simple functions and don't have the capabilities that the Mac version offers. The color grading workflow can be minimalistic if you're recording on a mobile device or using baked-in camera colors. If you're recording on a camera with raw or log capabilities, you'll definitely want to do color grading on a Mac.
On the iPad, you're limited to the luts available on Final Cut Pro without the ability to add your own. The color adjustments you can do are basic and certainly won't take advantage of what many raw and log footage cameras are capable of. You can make various adjustments via sliders, and adjust the usual suspects like exposure. You'll have a nice selection of color grading presets that can help give some character to your edit, which you can adjust with sliders as to their intensity. This seems suited for quick, on-the-go edits, rather than a more detailed approach that still is better on the Mac.
Other items such as keyframing are also available but more limited on the iPad Pro. You do get a nice assortment of other ready-to-go niceties, too. There are various titles, transitions, and effects that you can apply in a few seconds. While it's missing the granularity you'd get on the Mac, you can certainly get a convincing enough use for most use cases with these available tools.
The iPad Pro screen is very high quality and consistent, especially with HDR. You can certainly get a better color experience versus a cheaper monitor tied to a Mac. MacBook Pro displays and Apple monitors are also of high quality, though.
Apple
Audio
For basic audio adjustments, the iPad version should be more than enough. Even the voice isolation that Apple added in Final Cut Pro for Mac makes an appearance here, plus other useful tools. Removing noise and more detailed listening are also possible. Just like with color, you'll also get some soundtracks you can add to your edits, making it straightforward if you want a basic option.
The iPad Pro has some decent built-in speakers, with the ability to add the headphones of your choice for better detail (through an adapter or Bluetooth).
Storage
Even with Thunderbolt support on the Apple silicon models, with an iPad Pro, you'll be mostly tied to the built-in storage and likely rely more on iCloud or other cloud storage. On a Mac, you have much more flexibility in adding storage raid arrays via Thunderbolt/USB-C. The iPad Pro has a single USB-C port, which does give you some options like SD card readers, but with more constraints.
The vast difference in potential storage between the iPad Pro and the Mac keeps the iPad Pro limited to smaller, less complicated projects. While you can transfer projects from the iPad Pro to a Mac, doing the same from a Mac library is not currently possible.
Storage organization will also be more limited here. Many users are accustomed to the Final Cut Pro Mac version having fairly robust systems to organize the footage and accompanying files. While you do get some of that on iPad, it is a bit more obtuse and not as expansive. The Files app on iPad Pro certainly brings usability closer to home, with the added benefit of AirDrop when you need to transfer files. That is another way the iPad Pro has gained Mac-like abilities without necessarily encroaching into that space completely.
A sidekick, not a replacement
Many "on the go" creators have already streamlined their workflow to the highly portable MacBook Pro or even the MacBook Air. This gives them access to the full breadth of options available on the desktop version of Final Cut Pro without compromise. However, with the fast-paced social media environment, we're in, all you may need is an iPad Pro for a fully mobile workflow–record directly, edit quickly, and upload. That's one of the fastest pipelines available.
Many users will likely use both the iPad Pro and Mac in some practical mix. Much like a film may have a main larger camera, together with smaller "crash cams," one can have different editing environments. Using iPad Pro as a "rough draft" machine, and later finishing on the Mac is certainly being done daily.
Final Cut Pro on the iPad Pro is impressive, but it's still lacking in some key areas. However, it certainly does the job with smaller projects and it makes a great sidekick for a Final Cut Pro Mac workstation.