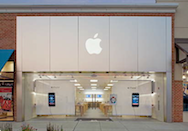 Say this about the folks at Microsoft: they sure know when other people's strategies beat the pinstriped pants off their own. Not content with opening up its own competing mom-and-pop stores right next to Apple's, the software giant has taken it a step further: according to reports, it's actively trying to lure away Apple's own retail staff to run its little shops of horror.
Our good friend Jim Dalrymple reports that Redmond has been dipping its fingers in Apple's company pool, offering store managers raises and other paid expenses to defect to its new venture. And then, like a virulent zombie outbreak, those converted employees are turning around and dangling the tasty, tasty brains of retail mutiny before their former colleagues in a hope to entice them, too, to the fabulous undead lifestyle.
If nothing else, it seems pretty clear that the alleged collusion between Silicon Valley companies didn't overcome the ancient rivalry of Apple and Microsoft.
Now that we've covered the where and who (and to a certain extent how) of Microsoft's retail strategy, the only question that remains is when? Oh, and why: why, Microsoft, whyyyyyyyyyy?