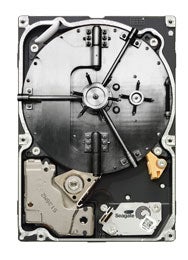 Seagate Technology on Tuesday announced it is shipping its Seagate self-encrypting drive (SED) across its portfolio of enterprise-class hard drives.
The hard drives included with the self-encrypting option are the Savvio 15K.2, Savvio 10K.3, Constellation and Cheetah 15K.7 drives.
Seagate has offered full disk encryption to consumers since 2007 and to enterprises in its lower-end Momentus 5400 drive .
Seagate is aiming its new high-end SED option at corporations and organizations faced with regulatory oversight in the health care and financial services arena, which requires customer data to have a higher level of security. "With 50,000 drives and terabytes of data leaving organizations daily, and because 90 percent of the drives returned for warranty contain readable data, safe drive retirement is a key imperative for businesses worldwide," Seagate said in a statement.
Eric Ouellet, a vice president of storage research at Gartner, said self-encrypting drives are one of the easiest, most cost-effective security measures companies can implement, providing protection against breaches that can occur in drives and systems "that have been repurposed, decommissioned, disposed of, sent for repair, misplaced or stolen."
"Because all disk media eventually leaves a company's control, the use of SEDs ensures that data is protected at these critical stages of a system's life cycle," Ouellet said in a statement.
Seagate has also partnered with Intel and LSI to integrate its SEDs with the companies' local encryption key management and TCG-based security technology in their processors and server network interface cards. Resellers and system integrators can build out more secure system architectures "that are strong enough for national security, yet easy enough for the one-person IT department to manage," Seagate stated.
"Using an Intel server board, such as Intel Server Board S5520HC, with a new Intel RAID Controller RS2BL080 and Seagate's self-encrypting drives, allows data-at-rest to be natively secure at the disk drives themselves," David Brown, general manager of channel server products at Intel, said in a statement.