At a Glance
Expert's Rating
Our Verdict
With all the distractions your Mac and its network connection can provide, it can be tough to get anything accomplished. A while back, I reviewed Think, a free utility for focusing on a particular program. But I rarely work in a single piece of software; rather, I usually focus on tasks that involve multiple applications. Roobasoft's Concentrate is a bit like Think for tasks.
Concentrate lets you create Activities, which are groups of actions you want to occur together to help you concentrate on a particular task. An example activity is included, but you can create as many of your own as you need. For example, you may want a Creative Writing activity that quits any Internet and social-networking programs that are currently running, launches your favorite word-processing application, and changes your desktop to something that gets your creative juices flowing. Alternatively, you could keep your Web browser running but block access to Twitter, Facebook, and any other Web site that might tempt you to veer off the productive path.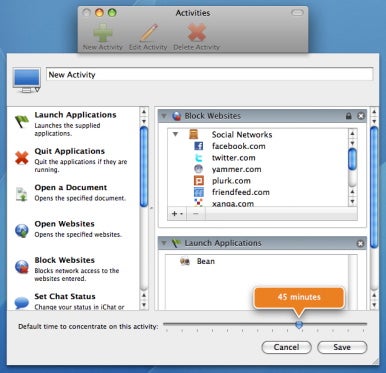 When customizing an activity, you drag an action from the list on the left into Concentrate's action area; you then configure that action. Available actions are:
Launch Applications: one or more programs to be launched; you can also choose to hide all other running programs.
Quit Applications: one or more programs to be quit.
Open a Document: one or more documents to be opened.
Open Websites: one or more Web sites to be opened.
Block Websites: one or more Web sites to be blocked during the activity (requires admin access).
Set Chat Status: instant-messaging status and messages to be set when the activity begins and ends.
Change Desktop: a particular Desktop picture to be used during the activity.
Run a Script: an AppleScript or Unix script to be run at the beginning or end of the activity.
Play a Sound: a sound to be played at the beginning or end of the activity, or at particular times during the activity.
Speak a Message: similar to Sound, but a message spoken using Mac OS X's text-to-speech feature.
Growl a Message: a Growl notification message to be displayed at the beginning or end of the activity, or at particular times during the activity.
Once you configure an activity, you can start or stop it from Concentrate's main window, Dock menu, or systemwide menu. If you've set a time length for the activity, the activity will continue until the time is up; you'll see a timer on the screen.
Concentrate works well, although there are a few improvements I'd like to see. For example, you can't currently block the Desktop, hiding your clutter, as you can with Think. It can also be quite laborious to add Web sites and programs to an action. For the former, you must manually provide each URL; for the latter, you have to navigate to each application separately and you can't drag and drop programs into the list. (Though if you frequently use a particular group of programs, or a particular set of Web sites, you can create groups that can be selected in these dialogs.) Finally, I'd like to see a way block all Web traffic and to schedule activities.
For future versions, the developer is working on the capability to block particular applications from launching, and a plug-in system so other developers can add actions.
Want to stay up to date with the latest Gems? Sign up for the Mac Gems newsletter for a weekly e-mail summary of Gems reviews sent directly to your Inbox.