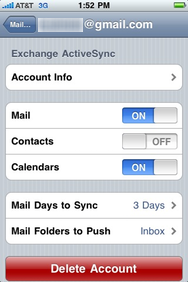 iPhone users (as well as Windows Mobile and Nokia S60 owners) who live in the Google-sphere have been able to take advantage of over-the-air sync for contact and calendar information since February, thanks to Google Sync. But for their precious Gmail, they've been limited to phone's vanilla POP and IMAP options. No longer!
Yes, Gmail has at long last joined the exclusive club of contacts and calendars. The most important difference? Google Sync supports Push for Gmail, meaning that you can get your messages immediately, if not sooner (as my dad is fond of saying). Setting up push Gmail for your iPhone is simple, too—it uses the iPhone's built-in support for Microsoft Exchange. If you've got Google Apps for your domain, there's support for sync as well, though it may need to be set up by your system administrator.
Of course, now that you can sync your Gmail, Google Contacts, and Google Calendars over the air, you might begin to wonder why, exactly, you're still paying $99 a year for that MobileMe service. Or maybe that's just me.