How quickly are Mac users adopting Snow Leopard? It's hard to tell, but everyone's got a guess. In general, Mac users are much faster to upgrade than their Windows counterparts. But Snow Leopard's got one aspect that should drive upgrades (its $29 price tag) and another that might cause upgrades to lag (its relatively scant list of major new features).
Spurred on by Daring Fireball's John Gruber, I sorted through Macworld.com's web statistics to gauge what the upgrade path of Macworld readers might be. As you might expect, Macworld users have been quite quick to upgrade—Snow Leopard users already make up the majority of Mac visits to Macworld.com.
The shape of Macworld's chart is almost identical to that of Gruber's, though users of Gruber's site are a little bit more likely to run Snow Leopard than Macworld readers. Not surprising, really, given that Macworld draws a bit more of a mainstream audience than Gruber's blog.
There are other sources to look at for upgrade data, of course. Clint Ecker of Ars Technica pointed out on Twitter that a majority of Ars users transitioned to Snow Leopard in 9 days. The developers of open-source chat client Adium offer some OS statistics that show about 24 percent of its users are on Snow Leopard. And software developers The Omni Group have a chart showing Snow Leopard usage at 23.5 percent.
I'm inclined to believe a number like Omni Group's is probably a more realistic assessment of where the Mac installed base is as a whole, because users of web sites such as Macworld.com and Daring Fireball are much more active Mac users, interested in what's going on with the Mac on the Web and therefore more likely to upgrade. There's no such guarantee for the people using Omni Group's software, since those apps report back data without any visits to the web being necessary.
Still, it's interesting to see how fast some corners of the Mac world have adapted to Snow Leopard. Compare that to the adoption rate of Windows Vista, which was used by only 14 percent of PC World's web visitors after an entire year in the market. It took Windows XP 11 months to surpass Windows 98 on PC World's site. It took Snow Leopard about 20 days to do the same at Macworld.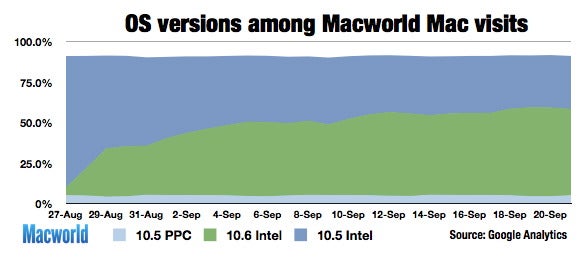 Is this ironclad, scientific evidence? Nah. But I do think it shows that Mac users tend to be active upgraders, that people who visit Mac-related Web sites are even more likely to upgrade, and that Snow Leopard is an upgrade that is being rapidly embraced.