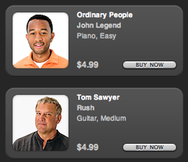 Today's Tom Sawyer, he gets high on you, and the space he invades is your personal computer. Well, if you're using GarageBand '09, anyway. The GarageBand Lesson Store has added three new lessons to its arsenal, including the classic tune by the Canadian progressive rock band.
Rush guitarist Alex Lifeson contributes two lessons to the new assortment, "Tom Sawyer" and "Limelight." The new offerings are rounded out by John Legend, himself a veteran of Apple events, who explains how to play his song "Ordinary People" on the piano. Each lesson costs $5 and consists of a video of the artist walking you through the piece, in some cases with both simplified and more complicated versions of the song. All three lessons are available from the Lesson Store in Garage Band '09.
Still missing, though, is Neil Peart walking us through playing "Tom Sawyer" on the drums, though admittedly, that may in part be the lack of a large enough drum kit accessory. Guess I'll have to stick to Rock Band for now.