So you need a small portrait of yourself to paste into social networking Web sites, instant message clients, or other venues that call for an image that you'd like to be a little less literal than a photo. In the previous stories about creating cartoon avatars, I talked about some of the online avatar generator Web sites that let you create a composite cartoon from different face and body components.
But that may not be your preferred look. If you need a little more hands-on avatar creation capability than you can get with the free online avatar creators we talked about so far, and if you have Adobe Illustrator CS2, CS3, or CS4—and if you know how to draw even crude shapes with the Pen or Pencil tools—you can whip up a new cartoon or caricature self-portrait in just a few minutes. The one below took me 60-seconds from start to finish. The more practice you have with these tools, the faster you'll go. Beginners might achieve the same results, but require more concentration on the task.
Added in Illustrator version CS2, the Live Paint feature lets you bypass the traditional object- and path-centric methodology of vector-based drawing and create images more naturally. With one simple menu command shapes and paths—opened or closed—can be treated as a single cohesive picture, and, much like a coloring book, you can then fill areas created by path intersections, whether a given area is a single path, an overlapping area of multiple paths, or even an empty space bordered by paths. Objects and paths converted to a Live Paint group cease to be treated as objects: paths become fillable areas and strokes become edges..
Let's give it a try with a quick self-portrait.
1. Start a new document in Illustrator. Using any combination of the Pen, Pencil, and/or shape tools, draw a quick self-portrait. With the shape tools you can easily draw circles or ellipses, squares or rectangles, and polygons. The Pen tool, the precision drawing tool in Illustrator and other vector applications, requires familiarity and a little skill. Freeform drawing is accomplished with the Pencil tool, though don't be surprised if you have difficulty drawing a smooth line; the Pencil tool is very sensitive and best suited for use with a digital stylus and tablet. You don't need to close or complete every path; just draw as if using a pen on paper. In the figure below you can see that, in my self-portrait I have a mixture of open and closed paths, mostly created with the Pen tool. It's best if you leave the fill color either empty or white for all of your objects.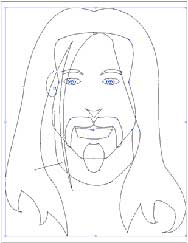 2. When you've finished drawing, select all with Command+A, and then, from the Object menu, select Live Paint -> Make. Illustrator will convert your various paths and objects into faces and edges comprising a Live Paint group.
3. On the Tools panel select the Live Paint Bucket tool a little south of the middle of the panel.
4. Pick the first color with which you'd like to paint, and then click within a face—an area between lines or edges—to fill it with that color. As you move over different areas they'll be temporarily outlined in red.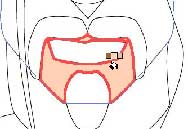 5. Fill in the remaining areas with whatever colors, gradients, or patterns you like. Hold the Shift key and click on an edge (line) to color it with the stroke swatch color.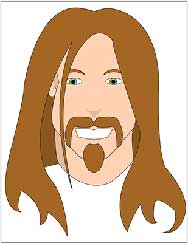 Congratulations! You now have a new vector cartoon avatar! Just export it to GIF, PNG, or JPEG, and upload it to your favorite forum or social media site. Next week we'll learn how to make a realistic vector self-portrait in even less time.
[ Pariah S. Burke is the author of Mastering InDesign CS3 for Print Design and Production (Sybex, 2007), and other books; a freelance graphic designer; and the publisher of the Web sites GurusUnleashed.com, WorkflowFreelance.com, and CreativesAre.com. Pariah lives in Portland, Ore.]
[This is the third of a series of articles on how to find, build, and create avatars for use on social networking Web sites and chat clients. Stay tuned for more tips on how to create a unique online image.]