Zurb, an interactive design and business consulting company, has released Notable, a Web site capture and annotation tool that lets design teams collaborate and provide feedback on Web sites. A hosted Internet service, Notable is accessed via the browser. It lets users capture Web page screen shots, display them in an online account, reveals the underlying code, and facilitates comments and communication during the creation process. A free companion iPhone app is also available.
"After years of struggling to exchange feedback on dynamically changing Web sites, we were determined to create a solution to make it incredibly easy to get stuff done," said Bryan Zmijewski, Zurb's founder. "Photoshop, PowerPoint, and e-mail are useful, but they're not great for exchanging quick feedback on Web sites."
Like many programs, Notable emerged from the company's own business needs. "We spent months prototyping a tool to solve our problems. And we're sure these are the same problems that you deal with on a daily basis. After a lot of iteration and ideation, we're comfortable sharing our little innovation," Zmijewski explained.
To access Notable, users can set up an account on the app's Web site or be invited to comment on a site. A workspace gives you a place to save your screen shots and view them at will. The Notable site has controls that let you set permissions for who to share content and comments with. You can comment and share comments about different aspects of a page in the visual or the code views.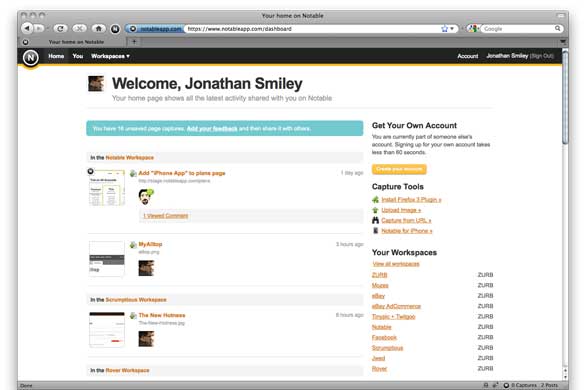 You can access your account from any computer in several ways: The Web interface lets you capture Web pages on the fly, but the company has also built shortcuts for both Safari and Firefox browsers for one-click capture from your desktop browser. A bookmarklet automatically captures pages in Safari. For Firefox, you can install a plug-in or use the bookmarklet.
An image uploader on the site also lets you add mockups and other images to your workspace, even if they are not included in a Web site yet. You can even get a PDF file of your saved work and comments.
The companion iPhone app, also called Notable, allows you to capture any page from your iPhone and upload it to your account.
The service is available for free for up to three users; $24 a month for five users; $44 a month for up to 10 users; $69 a month for up to 25 users; and $119 a month for up to 50 users. Storage space ranges from 3GB to 50GB, depending on the number of account users. Access this service from the Notable Web site.