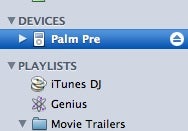 Palm's attempts to wiggle its way into the iTunes ecosphere by dressing up its Pre smartphone like an iPod may have backfired, landing them in hot water with the group in charge of the USB standard.
Let's recap: Back in May, Palm announced an innovative new method of getting media onto their new Pre smartphone—namely, pretending to be an iPod and latching onto Apple's iTunes software, lamprey-style. To the surprise of just one guy—to be fair, the same guy who was surprised that Transformers: Revenge of the Fallen was thoroughly unwatchable—Apple went ahead and blocked Palm's little trick in a subsequent iTunes update.
Palm tried again, this time using an approach where the Pre reports Apple's own USB vendor ID in hopes of circumventing Apple's patch. Apple updated iTunes to 9, once again thwarting Palm. Then, mid-scuffle, Palm drew a deep lungful of air and cried "Mommmmmmmm!"—the part of "mom" in this case being played by the USB Implementers Forum, the maintainers of the specification.
But, as so often is the case, it's he who complains to Mom who gets in trouble. According to Arik Hesseldahl at BusinessWeek, the USB-IF has ruled that not only did Palm not provide any evidence of Apple using its Vendor ID against the rules, but Palm's use of spoofing that ID to get access to iTunes is strictly verboten. Palm now has seven days to "clarify its intent."
Whoops. That sounds you hear? Palm's lawyers and engineers furiously backpedaling to come up with either a) another solution for working with iTunes or b) a realllllllly good way to talk themselves out of this.