Editor's Note: The following article is reprinted from the Today @ PC World blog at PCWorld.com.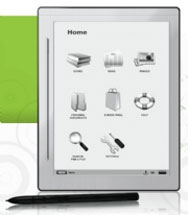 Prepare for the year of the e-reader, as Best Buy and Verizon throw their sizable influences into the market. Starting in November, Best Buy will stock both the new Royal Philips Electronics' e-reader, the iRex DR800SG, and also Sony's impressive new line of e-readers. Meanwhile, Verizon joins the fray by supporting the new iRex with unlimited data connectivity to wirelessly download titles from Barnes & Noble's e-book store. Will these two massive persuaders of consumer culture make e-readers a household name?
The quandary behind buying an e-reader up until this point—especially Amazon's Kindle—is that customers were unable to physically hold the device and test out its features. The capability to fuss around with a potential purchase—with the techie guidance of Best Buy employees who are currently being trained on e-readers—is a big sell for many people unfamiliar with the e-reader phenomenon. I think this'll give the iRex and Sony's e-readers a big leap forward in sales and convince more people to stray from the Kindle, which can only be purchased through Amazon's Web site.
The $399 iRex sports an 8.1-inch touchscreen and a 3G Gobi radio from Qualcomm, which will be juiced by Verizon's 3G networks. Aside from the bonus of having a touchscreen (the Kindle doesn't), the Gobi radio unchains the iRex from North American networks and allows consumers to download titles outside the U.S. The Kindle's CDMA modem doesn't allow such freedom. Titles can be downloaded from the Barnes & Noble online bookstore and also parse through the 1,100 available newspapers on Newspapers Direct.
These new e-readers nearly put the Kindle to shame in terms of accessibility. The Barnes & Noble e-book store supports the ePub format—the same open-source format Google embraced for its huge selection of public domain titles. Also, once the Google Books project is underway (and it will get there, eventually), Amazon's selection will look dinky by comparison.
Though it seems highly unlikely, a good next step for Amazon would be to sell its e-reader in retail stores. Otherwise people will probably purchase whatever is in their faces, rather than take a gamble on a device they cannot hold.