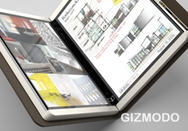 All right, Microsoft, we get it: you're taking on Apple on every front. You've rolled out a touch-screen media player. You've taken pot shots at Cupertino's laptop line. You're opening up your own retail stores, with staff that may or may not be poached from Apple's. But launching your own mythical tablet device? You've fallen right into the trap.
Gadget blog Gizmodo was the first to dish on the hardware, dubbed "Courier," which is the brainchild of a secret team from Microsoft's Entertainment & Devices division, headed by J Allard. Allard, the man behind both the original Xbox gaming console and its successor, the Xbox 360, also worked on the Zune. Of course, as befits the black ops nature of the project, Microsoft disavowed all knowledge of its existence, though other sources have since confirmed.
Courier's hinged "book" form factor features a pair of approximately 7-inch multitouch screens, a camera, a pen-compatible interface, and the hopes and dreams of an entire generation of technophiles, still desperate for the tablet device they've always wanted.
As its form factor would suggest, Courier seems mainly to be an attempt at creating a digital notebook, a place for storing notes and addresses, and drawing together information from user input, an included camera, and the Web. Gizmodo says the device is in the "late prototype" stage, which means that functioning hardware probably exists. That said, there's precious little substance about Courier, beyond a brief concept video and a few images that appear to be computer-rendered illustrations. And, as CNet confirms, it's no big surprise that Courier is just one of many concept devices Allard's division is working on.
That's not to say Courier couldn't be cool, but I couldn't shake the feeling of déjà vu. Courier looks like yet another attempt in the vein of Microsoft Surface and the Tablet PC, both of which gained about as much traction as fried eggs on Teflon. Redmond's attempts to reinvent the way we interact with information have repeatedly slipped on the banana peel of actual usability.
In fact, Courier reminds me of nothing so much as Gerturde Stein's famous quote about Oakland, California: "There's no there there." Even if the device is in the late prototype stage, the chances that it undergoes changes between now and shipping—if, in fact it ever does ship—are pretty good. Trying to understand it now is like trying to grab a fistful of cloud.
There's a reason that Apple never shows off prototypes. (Well, the Apple of the last 15 years or so, anyway, as this 1987 demo for a suspiciously Courier-like product shows.) It wants to release a fully-formed device, like a grown Athena springing forth from Zeus's head. Showing off your prototypes to the general public is like design by the world's largest committee. When it comes to the (still mythical-as-of-now) Apple tablet: what do we know for sure? Absolutely nothing. Right now it's all things to all people. If it ever gets released, expect there to be plenty of complaining—but people will still buy it, make no mistake.
Personally, I hope Courier is as cool as its concept video looks—heaven knows we could use more competition in the hypothetical tablet device market—but if the final version never sees the light of day or looks like a different product entirely, I won't faint dead away in shock.
If it delivers, though, you might need to get out the smelling salts.