Many software companies have been scrambling to make an iPhone app version of their desktop programs. Nevercenter, the makers of the extremely popular iPhone photo-filter app CameraBag, have done the opposite.
Today, Nevercenter released the CameraBag for the Mac, a souped-up desktop version of the CameraBag app that can be used on any photos, not just iPhone images. CameraBag is a collection of retro photo filters that make your images look like they were shot with film. The filters imitate a variety of techniques and popular film cameras including the Holga and the Lomo (called "Helga" and "Lolo" in CameraBag).
With the $19 desktop app, you can finally apply those same filters to your high quality point-and-shoot and DLSR images. CameraBag for the Mac also adds a handful of new ways to "process" your images for one-of-a-kind results, just like with real film.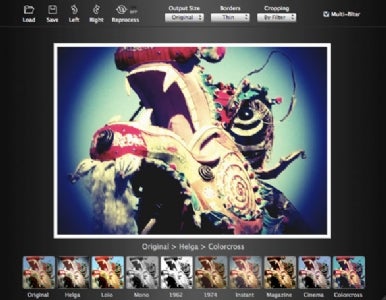 There's a new filter called ColorCross that simulates cross-processed film. You can combine multiple filters in different orders to produce unique color and lighting effects. When you click on the Reprocess button, your filtered image will reload with subtle changes in exposure. You can reprocess an image as many times as you like and get a new look each time. No two results are the same.
Once you have the desired digital image, you crop the photo, choose from any of the available borders, save it, print it, and pretend you took it with a real film camera.