Wacom has added multi-touch, finger-based input to its updated Bamboo line of consumer tablets. The new family includes five tablets: touch-only, pen-only, and three versions of the pen and multi-touch combo. Multi-touch gestures include zoom, scroll, pan, rotate, and forwards/backwards, and all but the Pen-only model feature ExpressKeys.
"Multi-touch provides a very natural and intuitive way for users to navigate and interact with applications," said Dennis Hoff, senior consumer product manager for Wacom. "By combining multi-touch with our pen technology, Bamboo provides users with a new computer input approach that is not only extremely powerful and flexible, but friendly, fresh, and fun."
All Bamboo tablets plug into your Mac via the attached USB cable. None of the new tablets ship with mice, and a handy cloth holder—anchored to the side of the tablet—keeps the pressure-sensitive, cordless pen steady and accessible. A complete audio-visual tutorial on all touch gestures is included in the box.
The new Bamboo family consists of three core products: Bamboo Touch; Bamboo Pen; and Bamboo Pen and Touch. Two additional tablets, Bamboo Craft and Bamboo Fun complete the rest of the lineup.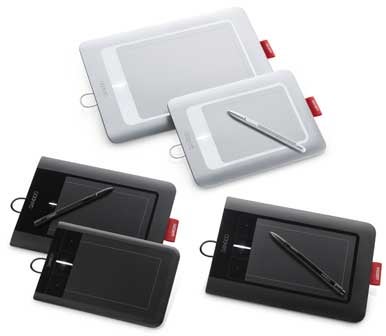 Bamboo Touch ($69), is targeted to users who want to replace the mouse or augment computer input. Bamboo Pen ($69) is a small, pen-only device that delivers pressure-sensitive control and allows the user to customize two side buttons with the Wacom Tablet driver software. Bamboo Pen ships with Corel Painter Essentials 4.0. Bamboo Pen and Touch ($99) offers both pen and multi-touch input targeted to home or office users seeking an alternative that allows them to navigate with their fingers or use the pen for specific work. Users can easily alternate between the two input methods: If your finger is in contact with the tablet surface, touch is the primary input; if only the pen tip is near the tablet, touch is automatically turned off and the pen becomes the primary input. Bamboo Pen and Touch comes with Adobe Photoshop Elements 6.0 and Nik Color Efex Pro 3.0 for photo editing and enhancement.
Bamboo Craft ($129) offers both pen and touch input and is targeted to scrapbookers and home crafts enthusiasts. Bamboo Craft ships with Adobe Photoshop Elements, Corel Painter Essentials, Color Efex Pro, 26 digital scrapbooking lessons from designer Jane Conner-ziser, a free scrapbooking album from Shutterfly, and much more. Bamboo Fun ($199) combines pen and multi-touch in a larger-sized tablet and is targeted to home creatives or photo enthusiasts looking for more control and freedom of movement. Bamboo Fun ships with Adobe Photoshop Elements, Corel Painter Essentials, and Nik Color Efex Pro.
Bamboo tablet software works with OS X 10.4, 10.5, and 10.6.