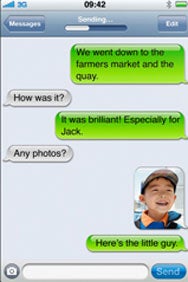 The iPhone is, arguably, the most advanced smartphone currently on the market. However, whenever you make that argument here in the U.S., invariably some wise guy will say, "If it's so great, why can't you send MMS messages?"
iPhone users know the answer to that: AT&T.
AT&T did promise that the iPhone's innate ability to send MMS messages would make its American debut by September 25—this Friday, in case you don't have a calendar handy. Is AT&T going to disappoint us (again) or will it deliver the goods? Count on the latter, according to no less a source than AT&T itself—or at least the corporate behemoth's Facebook page.
On that site, the carrier promises that MMS support will launch late in the morning, Pacific time, this Friday. "The new carrier settings update enabling MMS should be live and ready to download through iTunes," AT&T says, promising to provide more details when the launch begins. (Once the update is live, you'll be prompted to install it the next time you connect your phone to iTunes. It's not a whole software update, just a small installation of additional settings onto your iPhone.)
As a reminder, the ability to send and receive photos, contact info, audio files, and locations via the iPhone's Messages application was added with Apple's iPhone 3.0 update—AT&T just didn't support it. That's not the case in at least 76 other countries where iPhone 3G users already take advantage of MMS support.
Needless to say, a lot of people will be paying attention to AT&T on Friday. And if this report on DSLreports.com is accurate, that's making the carrier very nervous, as it rushes to beef up its infastructure to support the expected burst of activity.
Here's hoping that AT&T's network is ready for millions of iPhone users to send a few test MMS messages starting late Friday morning.